Men's golf places 4th in Hamilton Fall Invite
---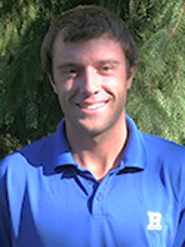 Hamilton College finished fourth out of nine teams in the 2012 Hamilton Fall Invitational, which was held at Yahnundasis Golf Club in New Hartford on Oct. 6, and the Skenandoa Club in Clinton on Oct. 7.

RESULTS

Greg Scott '14 was the tournament's individual medalist for the second time in five events this fall for the Continentals. Scott earned the same honor at Middlebury College's Duke Nelson Invitational in September.

Scott's 1-over-par 72 on Saturday was the best round at Yahnundasis, which measures 6,767 yards. He followed with a 5-over 77 at Skenandoa for a 36-hole total of 149. All nine of his rounds this fall were in the 70s.

Mac Pivirotto '15 tied for eighth place out of 45 golfers with a two-day total of 155. Pivirotto carded a 78 on the first day and fired a 77 at Skenandoa, which measures 6,765 yards.

Gipper Gailor '15 tied for 11th place with some of his best golf since he arrived at Hamilton. Gailor posted a 79 on Saturday and recorded a career-best round of 77 on Sunday for a 36-hole total of 156.

Matt Yung '16 was part of an eight-way tie for 13th place at 157. Yung's even-par 72 at Skenandoa was the low round of the day and a season best performance. Julian Ophals '14 chipped in a 79 on the final day.

The Continentals fielded two teams in their own event. Hamilton Blue ended up with a four-man team score of 627, including 305 at Skenandoa. Hamilton Buff finished eighth at 647. Williams College captured the team title with 613 shots, Rensselaer (615) was runner-up and New York University (619) took third place.

The Continentals won't play again until the spring of 2013.