Men's golf places 5th at Middlebury invitational
---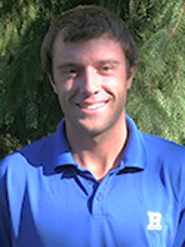 Hamilton College's Greg Scott '14 fired a 4-over-par 144 for 36 holes and the Continentals finished in fifth place out of 22 teams at Middlebury College's 30th Duke Nelson Invitational, which was held at Middlebury's Ralph Myhre Golf Course on Sept. 14 and 15.

RESULTS

Scott, who is from New Haven, Vt., placed third out of 114 golfers on his home course. Ralph Myhre GC plays to a par of 70 and measures 6,302 yards.

Mac Pivirotto '15 tied for 18th place with a two-day total of 150 and Matt Yung '16 tied for 34th place at 154. Chris Bousquet '16 ended up in a tie for 51st place just three strokes behind Yung at 157.

Hamilton was in first place with a fantastic four-man team score of 291 after the first 18 holes on Saturday. Scott and Yung fired a pair of even-par rounds of 70, and Yung's score was his career-best for the Continentals. Pivirotto also carded a career-best round at Hamilton with a 74, and Bousquet rounded out the group with a 77.

Sunday was a much tougher day for the Continentals, who slipped to a team score of 312. Scott led the way again with a 74 and Pivirotto managed a solid 6-over 76. Bousquet added an 80 for Hamilton, which finished the tournament at 603 for the two days.

The hosts captured the team title with a 596 and Clarkson University was a close second at 597. Williams College was right behind the top two at 599 and Salem State University finished fourth at 602. Middlebury's Rob Donahoe was the tournament medalist with a 1-under 139.

The Continentals compete in the Williams College Invitational on Saturday and Sunday, Sept. 21 and 22.