Men's golf places 6th at St. Lawrence invite
---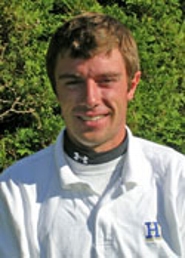 Hamilton College finished sixth of 13 teams in the St. Lawrence University Invitational at St. Lawrence Golf Course after the 36-hole tournament wrapped up on Sept. 11.

Results

Two programs from Canada -- Waterloo and the University of Ottawa -- finished ahead of Hamilton, but their performances don't factor into the NCAA rankings. St. Lawrence GC has a par of 72 and measures 6,672 yards.

The Continentals four-man total on Saturday was 319, but Hamilton rebounded and posted a team score of 308 on Sunday, and finished at 627. St. John Fisher College captured the team title with a 586, which was just 10-over par. Waterloo was close behind in second place at 589, and Elmira College took third place with a 601.

Greg Scott '14 led the Continentals for the second straight weekend in a tie for 14th place out of 79 golfers. Scott carded a 76 on the first day and fired a 3-over 75 on the final day for a 36-hole total of 151.

Julian Ophals '14 tied for 16th place just one shot back of Scott. Ophals boasted rounds of 77 and 75. Carter White '14 and Knute Gailor '13 recorded identical rounds of 79 on the second day. Mac Pivirotto '15 shot 76 as an individual on Saturday and tied for 27th with a two-day total of 156. The tournament medalist was at 1-under 143.

Hamilton competes in Middlebury College's Duke Nelson Invitational on Saturday and Sunday, Sept. 17 and 18.