Men's golf places 7th at St. Lawrence Invitational
---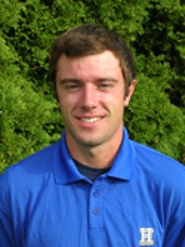 Hamilton College finished seventh in the 12-team 2012 St. Lawrence University Men's Golf Invitational at St. Lawrence Golf Course in Canton, N.Y., on Sept. 9.

RESULTS

Hamilton's four-player team total was 316 strokes. St. Lawrence captured the team title with a 298 total, New York University was second at 301 and Middlebury College took third place with a 303. The Saints' Jack Whelan earned individual medalist honors with a 3-under-par 69 on the 6,673-yard layout.

Greg Scott '14 paced the Continentals with a 75 that was good enough for a tie for fifth place out of 62 golfers. Scott is a two-time all-region selection and a 2011 All-American.

Matt Yung '16 was the only other Hamilton player that broke 80. In his first collegiate event, Yung tied for 21st place with a 78.

The tournament was scheduled to be a two-day, 36-hole affair. But Saturday's round was stopped after five holes before severe thunderstorms moved through the area. The debris left on the course by the storms made it impossible to finish the round that day.

The Continentals compete in Middlebury's Duke Nelson Invitational on Saturday and Sunday, Sept. 15 and 16.