Men's golf places 7th at Williams Invitational
---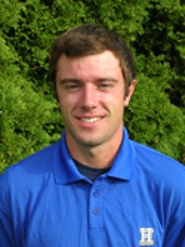 Hamilton College finished seventh out of 18 teams at the 2012 Williams College Fall Invitational, which was held at Taconic Golf Club in Williamstown, Mass., on Sept. 22 and 23.

RESULTS

Hamilton's Greg Scott '14 tied for third place with an 8-over-par score of 150 for 36 holes. Scott fired a 74 on Saturday and carded a 76 on Sunday. He was the only golfer not from Williams that finished in the top five.

Matt Yung '16 posted a pair of 78s and tied for 12th place out of 96 golfers with a two-day total of 156. Chris Bousquet '16 recorded an 80 in his first round on the par 71 layout that measured 6,754 yards.

The Continentals opened with a four-man team total of 303 strokes. Hamilton ended up at 311 in the second round for a grand total of 614 for the tournament. Just one team that finished in the top 10 had a better score on Sunday. The Continentals finished fourth out of the eight NESCAC schools at the tournament.

Williams captured the team title with a two-day total of 584. Middlebury College was next at 599, followed by Babson College (602) and Trinity College (603). Dylan Dethier and Matt McCarron -- both from Williams -- tied for individual medalist honors just one stroke ahead of Hamilton's Scott at 7-over 149.

The Continentals compete in the NESCAC Championship Qualifier at Hickory Ridge Golf Course in Amherst, Mass., on Saturday and Sunday, Sept. 29 and 30.