Men's golf places eighth in fall invitational
---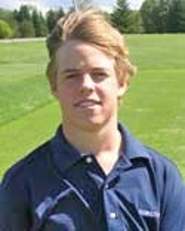 Hamilton College placed eighth out of 16 teams in Hamilton's own fall invitational, which was held on Oct. 4 and 5.
The teams played at Yahnundasis Golf Course in New Hartford, N.Y., on Saturday and at Skenandoa Club just one mile from campus on Sunday. Yahnundasis plays to a par of 71 and measures 6,985 yards. Skenandoa -- the Continentals' home course -- has a par of 72 and measures 6,750 yards.
Brad Roche '11 tied for 16th place out of 88 golfers with a 36-hole total of 153 shots. Roche carded a 77 on the first day and posted a 76 on the second day. He has broke 80 in all but one of his 11 rounds this fall.
Kevin Osborne '09 tied for 27th place with a two-day total of 156. Osborne shot 78 at each course. Jeff Corbett '09 was one stroke behind Osborne at 157. Corbett fired a 2-under par 70 at Skenandoa. He has recorded two rounds of 70 this fall.
Scott Blosser '12 and Phil Preiss '10 added rounds of 78 at Skenandoa on Sunday. Three Skidmore College players shared medalist honors at 4-over 147 for the tournament.
Nationally ranked Skidmore won the team title by 28 strokes with a total of 585. Salem State College was in second place at 613. Hamilton ended up with a team total of 633, including a four-man total of 305 at Skenandoa.
The Continentals compete in the Manhattanville/New York University Fall Classic at Hudson Hills Golf Course in Ossining, N.Y., on Oct. 11 and 12. Saturday's round starts at noon and Sunday's round is scheduled to begin at 10 a.m.