Men's golf places fourth in Manhattanville/NYU Fall Invite
---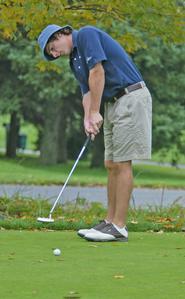 Jeff Corbett '09 led Hamilton College to fourth place in the 10-team Manhattanville/NYU Fall Classic, which was played at Hudson Hills Golf Course in Ossining, N.Y., on Oct. 11 and 12.
Corbett fired an even-par round of 71 on Sunday and finished third out of 60 golfers with a 36-hole total of 145. Corbett recorded just two scores in the 80s out of 13 rounds this fall. A SUNY Delhi player earned tournament medalist honors with a two-day total of 143, including a 5-under 66 on Sunday.
Brad Roche '11 carded rounds of 79 and 76 for a total of 155 on the 6,400-yard layout. Roche tied for 12th place as he and Corbett were the only Hamilton players that broke 80 both days.
Dave Christie '09 shot a season-best 74 on the final day, while L.J. Scurfield '12 added a 77. Hamilton's four-man total of 298 on Sunday was the team's best for any round at any tournament this fall.
The Continentals ended up at 619, which was eight strokes behind team champion SUNY Delhi. New York University was runners-up with a 612 total and St. Lawrence University finished third at 617. Hamilton's fall season is complete.