Men's golf places second at NESCAC championship qualifier
---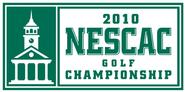 Phil Preiss '10 played some of the best golf of his Hamilton College career to lead the Continentals to second place in the 10-team New England Small College Athletic Conference championship qualifier, which ended on Oct. 4 at Waubeeka Golf Links in South Williamstown, Mass.
Hamilton's two-day total of 597 was just two strokes behind team champion Williams College at 595. The Continentals' top four scores from Saturday's first round added up to 291, and gave Hamilton a six-shot lead over Williams going into the final 18 holes. The Continentals slipped to 306 on the second day while the Ephs closed out with a 298.
The top four teams advanced to the 2010 NESCAC championships, which will be hosted by Williams at Taconic Golf Club, on April 24 and 25. Trinity College (603) and Middlebury College (608) rounded out the top four. Hamilton has qualified for the championships all three years this format has been in place.
Preiss fired a pair of even-par rounds of 71 on the 6,229-yard course and earned medalist honors. He finished five shots ahead of the runner-up. Preiss is the first Hamilton player to finish first at a NESCAC event since Brian Williams '04 at the 2002 and 2003 championships.
Brad Roche '11 tied for third place with a 6-over total of 148. Roche posted 71 on Saturday. Hans Schulte '13 finished at 153 after he opened with a 3-over 74. Scott Blosser '12 was another stroke back at 154. Blosser carded a 75 in his opening round.
The Continentals host their fall invitational on Saturday and Sunday, Oct. 10 and 11. The first round will be played at Yahnundasis Golf Club in New Hartford and the second round is at Skenandoa Club one mile from Hamilton's campus.