Men's golf places second in own invitational
---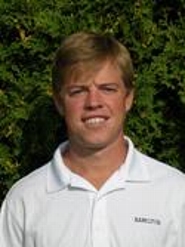 Brad Roche '11 earned individual medalist honors and helped lead Hamilton College to second place in the Continentals' 15-team fall invitational, which ended on Oct. 11.
The two-day, 36-hole tournament was held at two courses. Yahnundasis Golf Club in New Hartford, N.Y., hosted the first round on Oct. 10 and Skenandoa Club in Clinton, N.Y., hosted the final round on Sunday. Yahnundasis has a par of 71 and measures 6,985 yards. Skenandoa has a par of 72 and measures 6,765 yards.
Roche's tournament title is the first of his Hamilton career. He fired a 74 on Saturday and a 1-over 73 on Sunday. His two-day total of 147 tied his career best. He was also one of six golfers on the all-tournament team.
The Continentals finished with a four-man team score of 307 on the first day and 313 on the second day for a total of 620. Nationally ranked Skidmore College won the team title with a score of 608. Salem State College (630) was third and New York University (634) ended up fourth.
Scott Blosser '12 posted a 75 on Saturday and a 77 on Sunday for a 152. His 36-hole score broke his previous career best of 153. Blosser finished seventh out of 85 golfers and just missed the all-tournament team.
Phil Preiss '10 -- the 2009 New England Small College Athletic Conference player of the year -- carded a 75 on the first day and tied for 18th place at 158. Hans Schulte '13 contributed with an 80 on Sunday.
Hamilton competes in the Manhattanville/New York University Fall Classic at Hampshire Country Club in Mamaroneck, N.Y., on Saturday and Sunday, Oct. 17 and 18.