Men's golf places third at NESCAC championships
---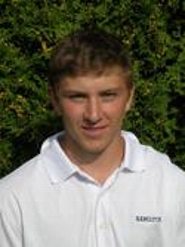 Hamilton College finished in third place at the 2010 New England Small College Athletic Conference men's golf championship, which was hosted by Williams College at the Taconic Golf Course in Williamstown, Mass., on April 24 and 25.
The Continentals finished with a total of 617. The Continentals finished third in 2009 and second in 2008. Middlebury College edged Hamilton for second place with a team score of 614.

Trinity College finished in first place for the first time in conference history with a team score of 598. Trinity earns the conference's automatic bid to the 2010 NCAA Division III championship in Hershey, Pa.
Hamilton finished the first round with a four-man total of 309, and improved its score by one stroke on the second day. Hans Schulte '13 led Hamilton, finishing sixth of 20 golfers with a 36-hole total of 152. Schulte carded a team-best, 4-over-par 75 on Saturday, and a 77 on Sunday.

Phil Preiss '10 took seventh place with a two-day total of 153. On Sunday, Preiss fired a team-best, 2-over-par 73 on the 6,808-yard course. Brad Roche '11 finished 10th with a two-day total of 155. Roche carded rounds of 78 and 77.

L.J. Scurfield '12 claimed 14th place with a total score of 160. Scurfield shot 79 on Saturday. Scott Blosser '12 tied for 16th place at 162, highlighted by a 77 on Saturday.