Men's golf places third in own invitational
---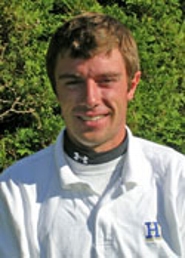 Greg Scott '14 earned individual medalist honors and led Hamilton College to third place out of 16 teams at the 2010 Hamilton Fall Invitational, which concluded on Oct. 10.

The Continentals finished with a two-day total of 615 strokes. Manhattanville College captured the team title with 609 shots, and Middlebury College took second place with 612. New England Small College Athletic Conference (NESCAC) rival Williams College tied for ninth place.

Scott garnered medalist honors for the first time in his young Hamilton career. He fired a 2-over 73 at the 6,985-yard Yahnundasis Golf Club in Saturday's first round, and followed that masterpiece with a season-best, 1-under 71 at the 6,765-yard Skenandoa Club.

Scott, who earlier in the week received NESCAC all-conference honors, leads the Continentals with a 74.58 stroke average this fall. Eleven of his 12 rounds have been in the 70s, and his worst round was an 80 at the St. Lawrence University Invitational.

Scott's 73 and a 75 by Peter Marshall '14 paced Hamilton to a four-man team score of 315, which was good for seventh place, at Yahnundasis. Scott and three teammates broke 80 on the Continentals' home Skenandoa course on Sunday, as Hamilton closed with a team score of 300, and moved up four places to third.

Hans Schulte '13 carded a career-best, 1-over 73, Marshall posted a 77 and Julian Ophals '14 recorded a 79 at Skenandoa. For the tournament, Marshall tied for ninth place at 152, and Schulte tied for 26th place out of 88 golfers at 158.

The Continentals are off until the spring, when the season starts again in March.