Men's golf qualifies for 2012 NESCAC Championship
---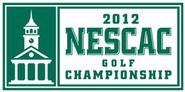 Hamilton College placed fourth in the NESCAC Golf Championship Qualifier, which was held at Lyman Orchards Golf Club in Middlefield, Conn., on Oct. 1 and 2, and the Continentals earned the right to play in the 2012 NESCAC Championship.

Full Results

The top four finishers in the team standings will play for the championship next April. Williams College, which captured first place at the qualifier, will host the 2012 championship.

Hamilton ended up in the top four at the first three championship qualifiers from 2007 to 2009. In 2010, the Continentals were fifth at the qualifier, and didn't play in the 2011 championship.

2011 All-American Greg Scott '14 led the way again for Hamilton. Scott tied for fourth place out of 50 golfers with a 36-hole score of 146. He fired a 3-under-par 69 on Sunday after he recorded a 77 the first day. His Sunday round tied for the best 18-hole score of the tournament.

Carter White '14 tied for 14th at 150 after he posted rounds of 73 and 77. His 73 on Saturday led the Continentals. Mac Pivirotto '15 was another shot back in a tie for 17th. Pivirotto carded rounds of 76 and 75.

Brandon De Graff '14 tied for 22nd place at 154. De Graff shot 79 on Saturday and recovered with a solid 3-over 75 on the final day. Julian Ophals '14 finished in a tie for 24th one shot behind De Graff. Ophals boasted rounds of 78 and 77.

Hamilton was tied for fifth after the first day when its top four scores added up to 304. Thanks in part to Scott, the Continentals rebounded with a sparkling 296 team score, and moved up into the fourth and final spot at 600. The 10 Hamilton rounds ranged from 69 to 79.

Williams ended up at 586, which was two strokes better than Trinity College. Middlebury College was at 594 and rounds out the championship field.

The Continentals host the Hamilton Fall Invitational on Saturday and Sunday, Oct. 8 and 9.