Men's golf runner-up in opening tournament
---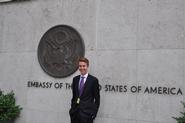 Hamilton College finished second in a four-team tournament the Continentals hosted at two sites on Sept. 4 and 5.
Hamilton's two-day team total of 609 was five shots behind tournament winner University of Rochester. Rensselaer was a distant third at 635 and Manhattanville College rounded out the field with a 640.
Greg Scott '14 enjoyed an excellent debut as the freshman earned co-medalist honors with a two-day total of 149. Scott was joined on the all-tournament team by teammate Riley Jorgensen '11, who tied for fifth at 154.
The Continentals' four-man score on Saturday at LaFayette Hills Golf & Country Club was 307. LaFayette Hills -- located in Jamesville, N.Y. -- has a par of 71 and measures 6,586 yards. Scott led Hamilton with a 2-over round of 73. Brandon De Graff '14 carded a 76, and Peter Marshall '14 and Brad Roche '11 added 79s.
The Continentals improved their team score by five shots with a 302 on Sunday at Skenandoa Club just one mile from Hamilton's campus. Skenandoa has a par of 72 and measures 6,765 yards. Jorgensen fired a career-best even-par round of 72. All six Continentals broke 80. Scott posted a 76, Marshall and Hans Schulte '13 had 77s, Roche was next at 78 and De Graff put together a 79.
Hamilton competes in the St. Lawrence University Invitational on Sept. 11 and 12.