Men's golf runners up at Williams Spring Opener
---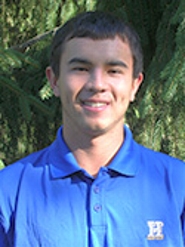 Hamilton College placed second out of seven teams at the 2013 Williams College Spring Opener, which was held at Taconic Golf Club in Williamstown, Mass., on April 20 and 21.

RESULTS

Cool temperatures and windy conditions made scoring difficult. Hamilton's four-man team total was 320 on Saturday and 325 on Sunday for a total of 645 strokes. Williams captured the team title with 633 shots, Trinity College was third (647) and Middlebury College finished fourth (649). Amherst College's Jarvis Sill earned medalist honors with rounds of 75 and 77 for a 36-hole total of 152.

Matt Yung '16 finished third overall in a 54-golfer field. He posted the best round of the tournament for the Continentals with a 75 on Saturday. Yung added an 81 on the second day for a total of 156. Greg Scott '14 carded a 79 on the first day and an 80 in the final round for a 159. Mac Pivirotto '15 recorded an 80 on Sunday.

Hamilton competes in the 2013 NESCAC Championship with Trinity, Williams and Middlebury on Saturday and Sunday, April 27 and 28. The winner of the event, which Trinity hosts, earns an automatic bid to the 2013 NCAA Division III Championship.