Men's golf ties for 3rd place at NESCAC championship
---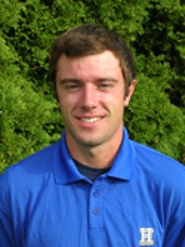 Hamilton College tied for third place out of four teams at the 2013 NESCAC Championship, which was held at Shuttle Meadow Country Club in Kensington, Conn., on April 27 and 28.

RESULTS

Williams College captured the team title and earned the conference's automatic bid to the 2013 NCAA Division III Championship with a two-day total of 592. Host school Trinity College was right behind in second place at 594, and Hamilton and Middlebury College were deadlocked at 607.

Greg Scott '14 finished second out of 20 golfers for the Continentals with a 2-over 144 on the par 71 layout that measured 6,329 yards. Scott carded a 73 on Saturday and fired a season-best round of 71 on Sunday. Williams' Cody Semmelrock was the medalist with a 36-hole total of 143.

Mac Pivirotto '15 tied a career best with a pair of 75s for a two-day total of 150 for Hamilton. Matt Yung '16 recorded a 77 on the first day and a 79 on the second day, and finished at 156. Brandon De Graff '14 was another shot back at 157 (79-78). Carter White '14 posted a 77 on Sunday.

Hamilton earned a spot in the 2013 NESCAC Championship by finishing third in the qualifier in October 2012. The Continentals were competing in this event for the fifth time since the NESCAC instituted a 10-team qualifier in the fall and a four-team championship in the spring for the 2007-08 academic year. Hamilton placed second in the 2008 NESCAC Championship, third in 2009 and 2010 and fourth in 2012.