Men's golf ties for 7th at NESCAC qualifier
---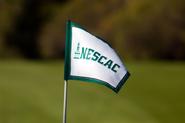 Hamilton College tied for seventh place out of 10 teams at the NESCAC Golf Championship Qualifier, which was held at Brunswick Golf Club in Brunswick, Maine, on Sept. 28 and 29.

RESULTS

Hamilton's Greg Scott '14 and Mac Pivirotto '15 tied for 21st place out of 50 golfers with 36-hole scores of 158. Scott carded a 5-over 77 on Sunday and Pivirotto's 76 in the opening round represented the best score all weekend for the Continentals. Matt Yung '16 -- the 2012 NESCAC Rookie of the Year -- tied for 29th place at 162. Yung posted a 79 on Saturday.

Hamilton's four-man team score was 323 on the first day. The total slipped slightly to 325 on the final day for a total of 648. Only the top four teams advance to the 2014 NESCAC championship in late April. This marks just the second time in seven years the Continentals didn't qualify since the conference went to this format.

Middlebury College finished first at the qualifier with a two-day team total of 595, and the Panthers will host the NESCAC championship next spring. Trinity College was runner-up at 612, Amherst College was next at 619 and Williams College was the last team to qualify at 622. Middlebury's John Louie earned individual medalist honors with a 1-over par 145.

Hamilton hosts its own invitational at Valley View Golf Course in Utica, N.Y., on Saturday and Sunday, Oct. 5 and 6.