Men's golf ties for second place
---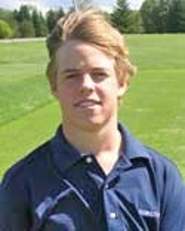 Hamilton College tied for second place in a four-team tournament that ended on Sept. 6 at the Skenandoa Club in Clinton, N.Y.
The two-day, 36-hole event also featured teams from SUNY Delhi, St. Lawrence University and Rensselaer. Delhi hosted the first day at Delhi College Golf Course on Sept. 5.
The home course proved to be a big advantage for Delhi as it shot a four-man total of 292. Delhi added a 303 at Skenandoa for a total of 595. Hamilton (306-311--617) and St. Lawrence (302-315--617) tied for second place. Rensselaer (315-331--646) finished a distant fourth.
The top four scores for each team on each day came from a possible six golfers. Hamilton's Brad Roche '11 was fourth out of 26 players with a 36-hole total of 151. Roche shot 76 at Delhi and fired a 75 on the Continentals' home course. The tournament medalist from Delhi carded a 144 for the two days.
Scott Blosser '12 finished at 156, including a team-best 75 at Delhi. Riley Jorgensen '11 was consistent with a 79 on the first day and a career-best 78 on the second for a total of 157. Hans Schulte '13 recorded rounds of 80 and 79 for a 159. Phil Preiss '10 notched a 76 at Delhi and Will Kresock '11 registered a 79 at Skenandoa.
Hamilton competes in the St. Lawrence Invitational on Saturday, Sept. 12, and Sunday, Sept. 13.