Men's golfer receives two honors
---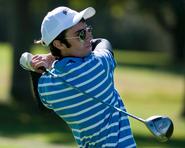 Hamilton College men's golfer Greg Scott '14 (New Haven, Vt./Mount Abraham Union HS) was honored twice by the Golf Coaches Association of America on May 11.

Scott was the Northeast Region representative on the 2011 Division III all-freshmen team, and a 2011 Division III PING Northeast Region all-region selection.

The six members of the all-freshmen team (one from each region) are eligible for the Phil Mickelson Award presented by the Phil and Amy Mickelson Foundation as the most outstanding freshman in Division III men's golf. The award will be presented on Friday, May 13, after the completion of the final round of the NCAA Division III men's golf championship.

Scott is one of 12 players on the Northeast Region all-region team. His 18-hole stroke average was 74.6 for 21 rounds in 2010-11. Nineteen of his 21 scores were better than 80. His worst round was an 81.

Scott saved his best performance for last. He ran away with medalist honors and helped Hamilton to the team title at the SUNY Oswego Spring Invitational. He tied a team record with a 4-under 67 in the first round, and posted a 72 on the second day to finish 11 shots ahead of the field. His two-day total of 139 is a program record. He played nine rounds in the spring without anything worse than a bogey on any hole.