Men's ice hockey scores season-high six goals in road victory
---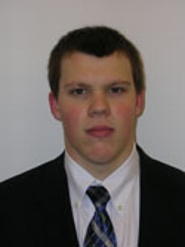 Joe Houk '13 and Nick Anderson '14 scored two goals apiece to lead Hamilton College to a 6-3 win against Western New England College in a non-conference game at Western New England's Smead Arena on Dec. 10.

The Continentals (4-3-0 overall) led 4-0 and held a 22-7 shot advantage after one period. The Golden Bears (3-6-1) recorded their sixth straight loss.

Houk gave Hamilton a 1-0 lead just 4:28 into the contest. Anderson netted his first collegiate goal 27 seconds later, and added his second score at the 11:23 mark. Tom Chiappetta '11 then scored his second goal this season for a 4-0 advantage at 15:07.

Houk made it a five-goal cushion with his team-leading fifth goal at 11:23 of the middle period. Western New England finally got on the board on a power-play goal by Cam Napolitan at 14:19, and a goal by Brian Prost made it 5-2 while the teams skated 4-on-4 at 14:33.

Anthony Scarpino '12 scored his second goal this season on a power-play opportunity at 5:39 of the third period. Mike Kaselouskas tallied the Golden Bears' final score on another power play with 5:20 remaining.

Andrew White '13 added three assists while Anthony Ruberto '13 chipped in two helpers for Hamilton. Scott Hefferman '11 turned away 30 shots. Hefferman has a 2.50 goals against average and .927 save percentage in six starts this season.

WNEC's Eric Sorenson compiled 17 saves in the opening period before T.J. Fatse came on in relief, and finished with 22 saves.

The Continentals are off until Thursday, Dec. 30, when they travel to SUNY Oswego to take on the nationally ranked No. 1 Lakers in the first round of the PathFinder Bank Classic.