Men's ice hockey unbeaten streak stopped by No. 8 Castleton
---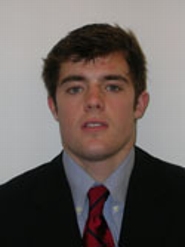 Nick Lazorko '14 scored two goals to lead nationally ranked No. 8 Castleton State College to a 4-2 win against Hamilton College in a NESCAC/ECAC East men's ice hockey crossover at Hamilton's Russell Sage Rink on Jan. 21.

Castleton (14-2-0 overall, 8-2 ECAC East) won its 10th straight game. Josh Harris '13 chipped in one goal and one assist, and Erick Cinotti '14 turned away 22 shots. Cinotti entered the night with a 0.86 goals against average and .963 save percentage.

The Continentals (8-5-2, 5-3-2 NESCAC) had their unbeaten streak end at five games. Bryan Kelly '12 and John Ogden '13 scored Hamilton's goals, and Joe Quattrocchi '14 made 23 saves.

Lazorko gave the Spartans a 1-0 lead on a power-play goal with 5:32 left in the first period. Dru Douglas '14 shot the puck off the end boards and it bounced to Lazorko, who scored from the left post. Justin Alonzo '13 made the score 2-0 with 4:02 remaining in the first. Alonzo scored his team-leading 12th goal on a scramble in front of the net. Harris picked up his 24th assist.

Castleton threatened to increase its lead in the second period as they had a 5-on-3 advantage for 48 seconds midway through the period. The Continentals killed both opportunities, and then went to work on the offensive end. Sixteen seconds into a power play, Anthony Ruberto '13 fired a shot that Cinotti blocked, but Kelly flicked in the rebound with his backhand to cut Hamilton's deficit in half with 3:13 left in the period. The Continentals held a 13-3 shot advantage in the second.

The score remained 2-1 until 4:20 remained in the third period. Late in a Hamilton power play, Quattrocchi played the puck behind the net along the boards. His pass was picked up by Castleton's Dan Bell '13 and before Quattrocchi could return to the goal, Bell passed to Lazorko in the left circle, Lazorko skated in and scored on an empty net for his fourth goal.

Just 12 seconds later, and four seconds after the Castleton penalty expired, the Continentals pulled within one goal again. Ogden's slap shot found the back of the net with 4:08 left to make it 3-2. Harris' unassisted goal 21 seconds later clinched the victory for the Spartans. He skated down the left side on a 2-on-1 breakaway, shifted from his forehand to his backhand, and flipped the puck over Quattrocchi's blocker for his 11th goal.

Castleton finished with a 27-24 edge in shots. The Spartans were 1-for-8 on the power play while Hamilton was 1-for-7. The teams combined for 26 penalties for 63 minutes.

The Continentals host Skidmore College for another NESCAC/ECAC East clash on Saturday, Jan. 22. Castleton travels to Amherst College on Saturday as well.