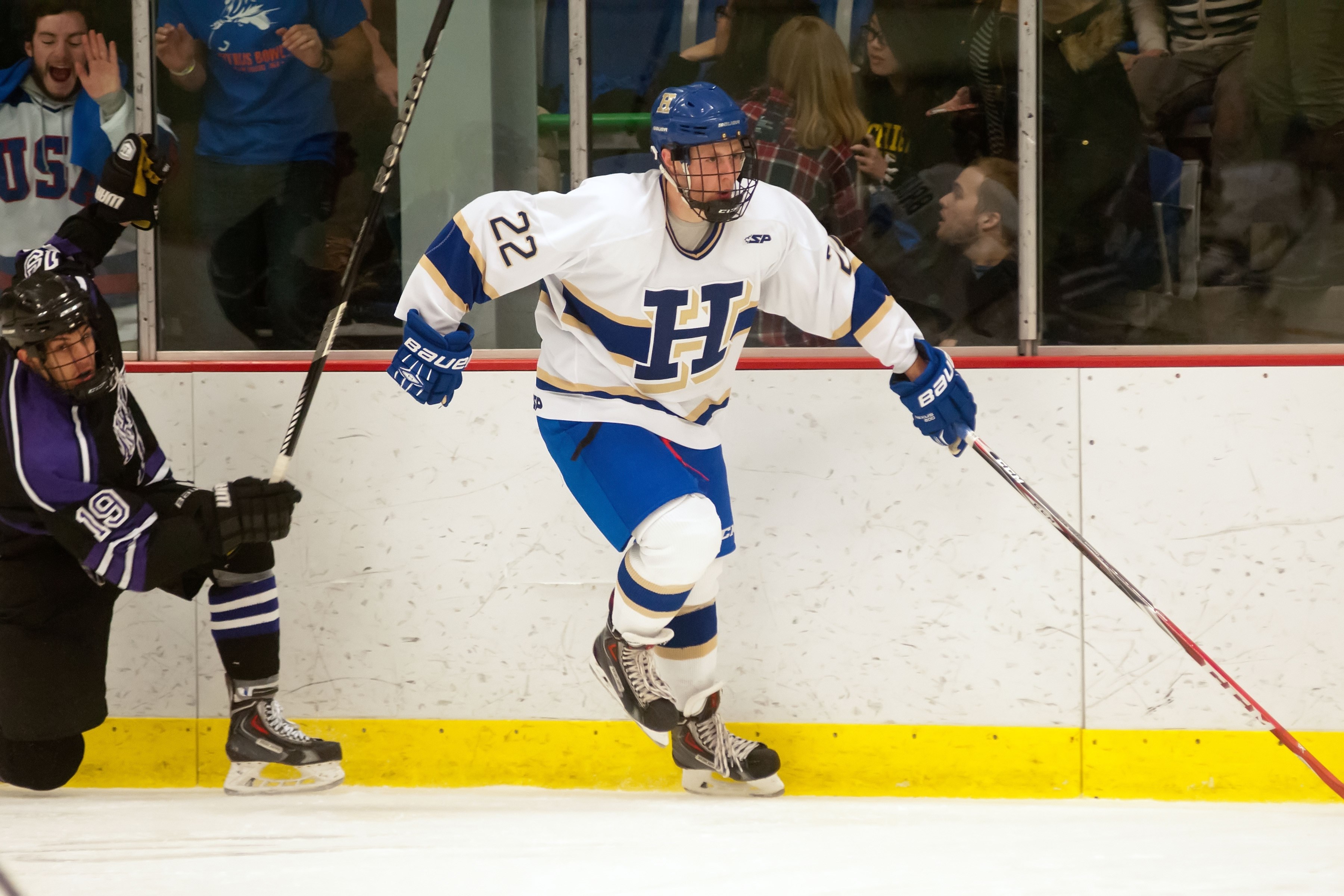 The Hamilton College men's hockey team wrapped up the non-conference portion of its schedule with a 4-0 win over visiting Franklin Pierce Saturday night.

Box score

Robbie Murden '17 had a hand in three of Hamilton's four goals and Tim Nowacki '18 recorded his first collegiate shutout. Murden and linemate Kenny Matheson '16 assisted on Hamilton's two first-period goals, both of which were scored by Tyler Bruneteau '18. The Continentals enjoyed a 51-12 shot advantage.

Bruneteau opened the scoring with 5:46 left in the first period and scored a power-play goal with 34 seconds left in the period. Bruneteau's two-goal game was his second of the season.

The Continentals (6-6-4 overall) added a goal in each of the last two periods. Neil Conway '18 picked up his first career goal off an assist from Marko Brelih '16 3:37 into the second. Murden closed out the scoring with a turnaround wrist shot 1:41 into the third. Murden and Matheson -- Hamilton's top two scorers with 20 and 18 points, respectively -- recorded their 11th career multi-point efforts.

Nowacki won his second consecutive decision, turning aside 12 shots to lower his goals-against average to 1.96. His biggest test came with 14 minutes left in the third when he sticked aside a high shot by Anthony Langevin '18, who had come down the ice on a two-on-one break.

Étienne Roy '18 finished with 47 saves for the Ravens. Franklin Pierce (3-13-0) suffered its seventh lost in eight games.

The Continentals return to NESCAC competition on Friday, Jan. 30, hosting Wesleyan at 7 p.m. Franklin Pierce hosts Assumption on Tuesday.