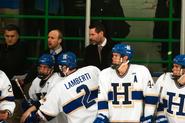 The Hamilton College men's hockey team opened play at UMass Boston's 50th Annual Codfish Bowl Tournament with a 5-3 loss to Lake Forest College on Sunday. The Continentals (3-4-2 overall) will face the host Beacons in the consolation game on Monday, Jan. 5, at 1 p.m.

Box score

Hamilton rallied from three one-goal deficits, pulling even at 3-3 early in the third period before the Foresters scored the game winner with 4:18 left. They added an empty-net goal with 65 seconds remaining. David Barmish '18, Conor Lamberti '17 and Joe Rausch '15 each scored their first goal of the season.

Billy Kent '18 scored a pair of goals for Lake Forest (7-3-2) and put the Foresters ahead for good with his fourth goal of the season late in the third. Bobby Barrett '15 assisted on Kent's game winner and Jimmy Cusan's empty-net insurance score. Leo Podolsky '16 stopped 37 shots for the Foresters, who were outshot 40-28.

Charles Stein '15 scored the only goal of the opening period, giving the Foresters (third among the "others receiving votes" in the latest national poll) a 1-0 lead after one. Ben Certo '16 picked up his 10th assist and Shawn Nelson '18 was also credited with an assist.

Barmish's first career goal put Hamilton on the board 4:44 into the second period. Neil Conway '18 and Nicholas Vassos '15 assisted on the goal. The Foresters took advantage of their first power-play opportunity to retake the lead nine minutes later. Certo scored the goal – his third of the winter – with Stein and Jack Lewis '17 assisting. Rausch tied the score 2:04 before the second intermission, converting passes from Conway and Bennett Hambrook '17.

The teams traded early third period goals. Nelson assisted on Kent's third goal of the season as Lake Forest took its third lead of the night at 1:43. Just 36 seconds later, Lamberti's first collegiate goal tied the score for the third time. Podolsky made eight of his 10 third-period saves following Lamberti's goal, including a pair of stops on a late Hamilton power play.

Tim Nowacki '18 made 23 saves in his second consecutive start in the Hamilton goal.

Monday's tournament schedule starts with the Continentals facing nationally ranked No. 5 UMass Boston, followed by the Foresters taking on Connecticut College at 4 p.m. in the title game. The Camels upset the previously undefeated Beacons 4-1 earlier on Sunday.