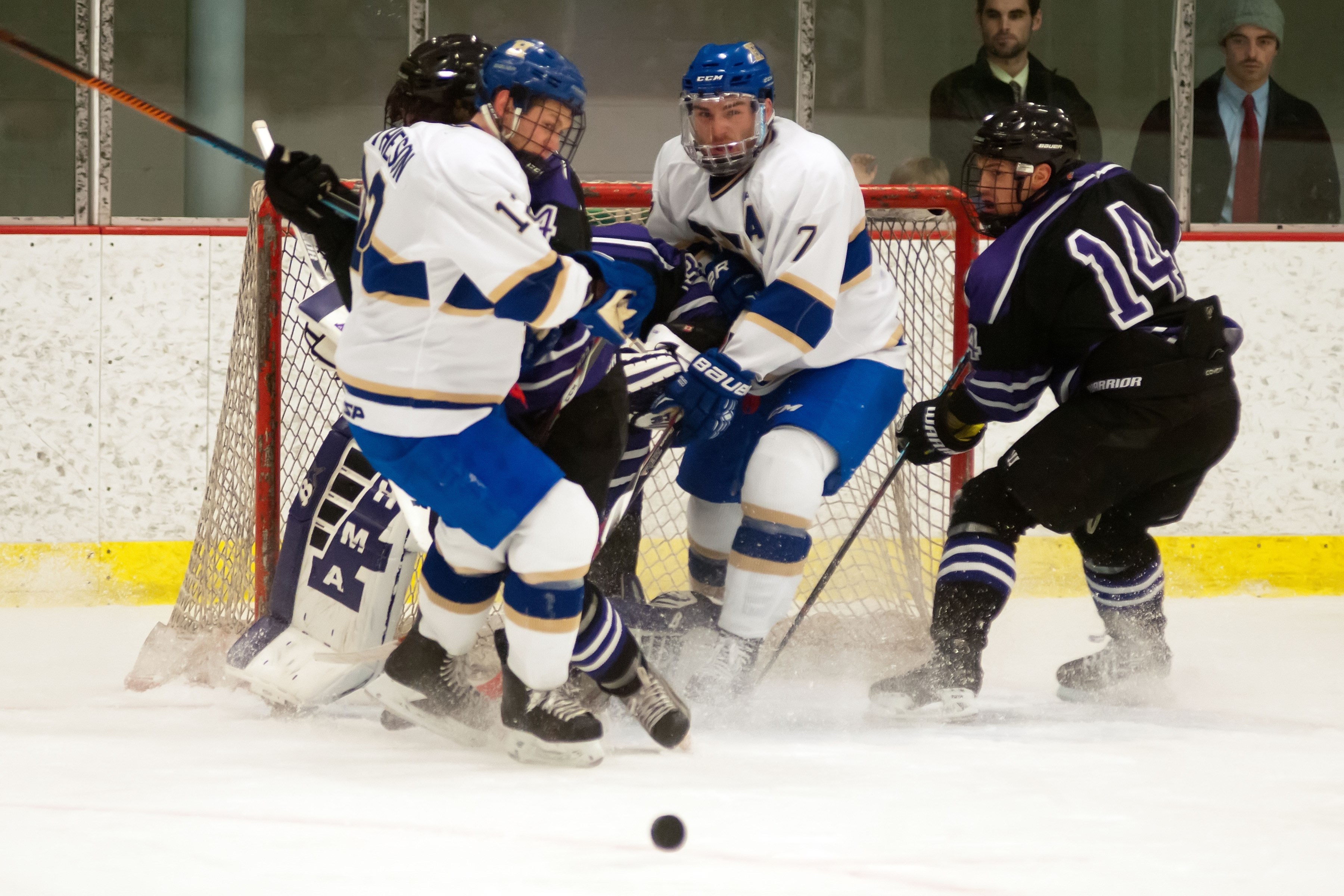 The Utica College Pioneers jumped out to a 2-0 lead in the first period and never trailed in their 5-3 non-conference win against the Hamilton College Continentals at the Utica Memorial Auditorium on Nov. 28.

Box Score

Justin Hogan '15 and Joel Wetmore '16 posted one goal and one assist apiece for the Pioneers, who won for the first time since their season opener on Nov. 1. Brett Szajner '18, Kevin Valenti '18 and Kyle Lajeunesse '18 chipped in one goal each and Brent Wold '18 was credited with two assists. Dylan Wells '16 made 25 saves.

Kenny Matheson '16 scored one goal and added one assist for Hamilton (1-2-1 overall). Tyler Lovejoy '16 and Brad Smelstor '17 tallied one goal apiece. Lovejoy's goal was his first for the Continentals. Robbie Murden '17 and Pat Curtis '15 had two helpers apiece and Jon Carkeek '17 ended up with one. Curtis has 50 points at Hamilton.

Evan Buitenhuis '18, the NESCAC player of the week, started in goal for the Continentals and made six saves. At 3:38 of the second period, a Utica player collided with Buitenhuis and he was shaken up. Buitenhuis left the game and didn't return. The incident resulted in a five-minute power play for Hamilton but the Continentals couldn't capitalize. Zach Arnold '15 relieved Buitenhuis and turned away 20 shots.

The Pioneers (2-4-2) grabbed a 1-0 advantage on Lajeunesse's third goal this season at 6:41 of the first period. Hogan made it a two-goal lead just 49 seconds later as Louie Educate '15 picked up his fifth assist.

Smelstor put Hamilton on the scoreboard with his first goal this season at 3:00 of the second period. Valenti restored Utica's two-goal lead with a power-play tally at 9:38 of the second. Matheson pulled the Continentals within 3-2 on his third goal with 5:59 left in the period. Szajner put the Pioneers up by two again before the end of the period. Hogan recorded his seventh assist on the goal, which was scored with 2:57 remaining while the teams skated 4-on-4.

Hamilton had a 5-on-3 power play for 1:38 after two Utica penalties 22 seconds apart late in the third period. The teams returned to even strength with 3:12 to go and the score was still 4-2. The Pioneers killed all six power-play opportunities for the Continentals while Utica was 1-for-5 with the extra skater.

Lovejoy cut Hamilton's deficit in half again with 1:31 left and Murden recorded his fourth assist. The Continentals pulled Arnold for an extra skater with 35 seconds remaining but Wetmore put the puck into the empty net and clinched the win for the Pioneers just seven seconds later. Utica finished with a 31-28 edge in shots.

Hamilton stays on the road on Saturday, Nov. 29, for another non-conference game at SUNY Canton at 7 p.m.