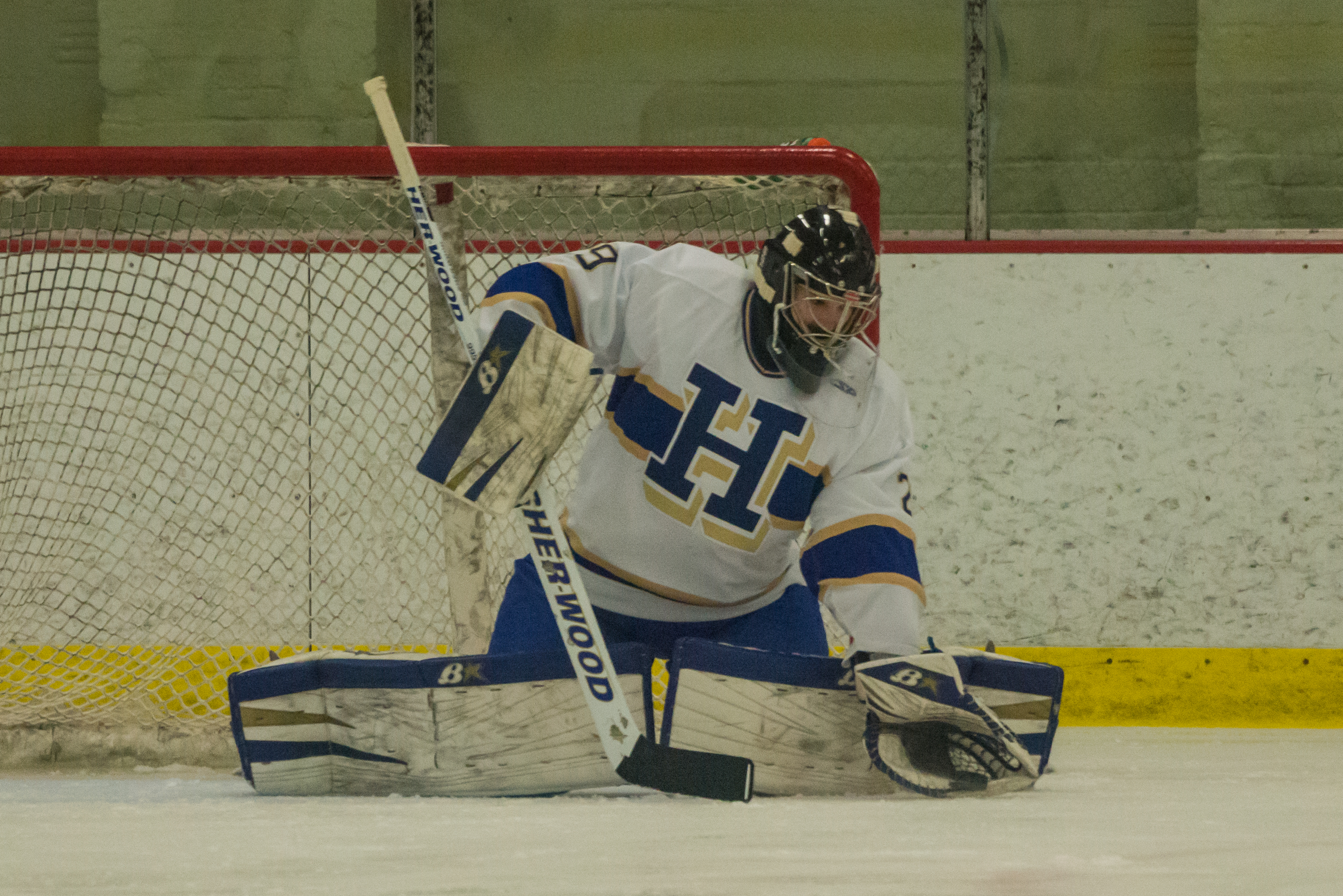 The Hamilton College men's hockey team scored twice in a span of 78 seconds on its way to beating visiting Wesleyan 2-1 in a NESCAC game at Russell Sage Rink Sunday afternoon. Evan Buitenhuis '18 made 44 saves for the Continentals, who snapped a two-game losing streak.

Box score

A day after stopping a career-high 51 shots against defending national champion Trinity, Buitenhuis held Wesleyan off the scoreboard until the Cardinals, skating with an extra attacker, scored with 1:54 left in the third period. Wesleyan pulled goaltender Dawson Sprigings with 64 seconds left but were unable to get a shot on goal; the Cardinals' only shot was blocked by Truman Landowski '17 with 23 seconds left.

Hamilton (3-3-0, 1-2 NESCAC) stretched its streak to 24 penalties successfully killed, holding the Cardinals without a power-play goal in their four tries. The Continentals have stymied all but one of the 27 power-play situations they've faced; their 96.2 percent success rate ranks second nationally.

Robbie Murden '17 opened the scoring early in the second period, stealing an attempt at a Wesleyan clearing pass and firing a shot from close to parallel to the Cardinal net. Sprigings nearly grabbed the shot with his glove, but was unable to maintain control and the puck wound up in the net.

Less than two minutes later Jason Brochu '19 provided the margin of victory with his second goal of the season. Tyler Lovejoy '16 and Jon Stickel '19 assisted on the goal.

Buitenhuis stopped 15 shots in each of the first two periods. He raised his save percentage to .955, which ranks fourth in Division III. Buitenhuis is 10th in goals-against average (1.59) and Hamilton owns the nation's seventh-lowest scoring defense.

After a stoppage in the Hamilton end with 2:29 left in the third, the Cardinals called their timeout and pulled Sprigings for a sixth skater. James Kline capitalized on the advantage, sending a shot into the net from the right circle.

Sprigings finished with 24 saves for the winless Cardinals (0-2-4, 0-1-3), who outshot the hosts 45-26 – including 15-6 in the final period.

The Continentals wrap up the first-semester portion of their schedule by hosting a NESCAC series this weekend. Hamilton takes on Middlebury Friday at 7 p.m. and faces Williams Saturday at 3 p.m. (the Ephs are ranked 15th in the current national coaches poll).