Men's hockey rallies for overtime win against Williams
---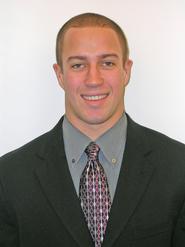 Brian O'Malley '10 scored the game-winning goal 2:23 into overtime and Hamilton College won a 3-2 thriller against visiting Williams College in a New England Small College Athletic Conference contest at Russell Sage Rink on Feb. 20.
Hamilton (9-13-1 overall, 8-10-0 NESCAC) will be the seventh seed in the eight-team NESCAC championship tournament that begins Saturday, Feb. 28. Hamilton will face the No. 2 seed.
Harry Biggs '10 was credited with the assist on the game-winner. The goal was O'Malley's first of the season. Ian Stearns '10 made three saves in overtime and 30 in the game for Hamilton, which won its first overtime game this season.
Williams (14-7-2, 12-4-2) scored two goals midway through the first period. The visiting Ephs enjoyed a 25-10 advantage in shots on goal during the first two periods.
The Continental offense awakened in the third period with two goals and 15 shots. Chris Lorenc '10 opened the scoring for the hosts during a power play 4:14 into the period when Tom Chiappetta '11 and Kyle Roulston '09 set him up. Lorenc leads the team with 16 goals and 28 points.
Jerome Wallace '10 found the back of the net just 39 seconds later with his fifth goal to tie the score at 2-2. Steven Lucchetti '12 and Bryan Kelly '12 were credited with the assists.
Williams held a slim 32-28 advantage in shots. The Ephs were 0-for-5 on the power play and Hamilton was 1-for-6.
Hamilton hosts nationally ranked No. 7 Middlebury College for Senior Day and another NESCAC contest on Saturday, Feb. 21.