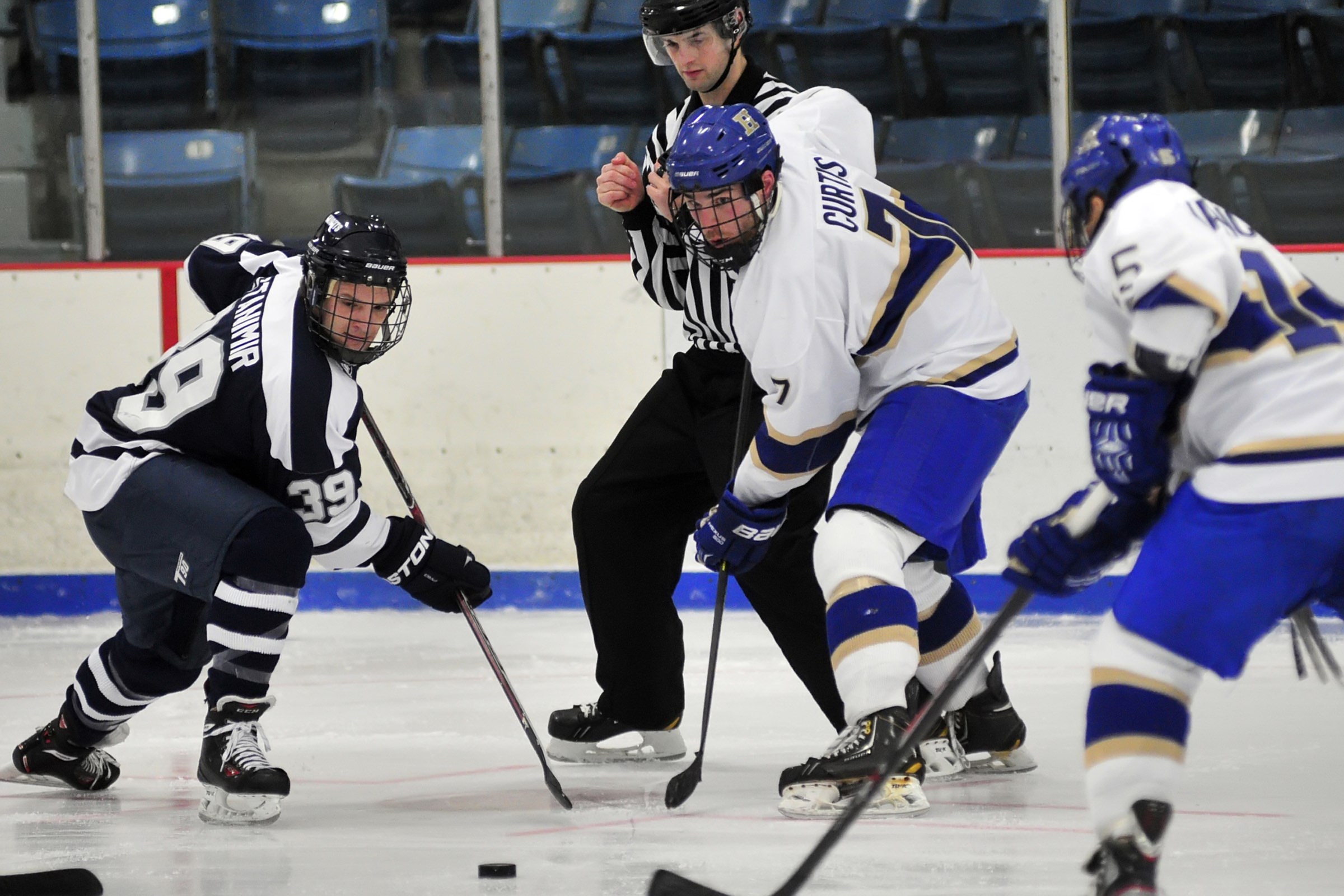 The Hamilton College Continentals and nationally ranked No. 8 Trinity College played to a 1-1 tie in NESCAC action at Trinity's Williams Rink in the Koeppel Community Sports Center on Nov. 22.

Box Score

Hamilton's Evan Buitenhuis '18, who made 31 saves in a 4-0 win at Wesleyan University on Friday night, turned away 46 shots against the Bantams. Trinity entered the afternoon averaging seven goals per game. Four of Buitenhuis' stops came in overtime.

Pat Curtis '15 scored the 23rd goal of his career for the Continentals at 9:41 of the second period. Kenny Matheson '16 and Robbie Murden '17 picked up the assists. Hamilton (1-1-1, 1-1-1 NESCAC) killed all five Trinity power-play opportunities. The Continentals were 0-for-2 on the power play.

John Hawkrigg tied the score for the Bantams (3-0-1, 3-0-1) with 5:22 left in the second period. Sean Orlando and Ethan Holdaway were credited with the assists, and Nathaniel Heilbron made 30 saves. Trinity enjoyed a 47-31 shot advantage, including 14-7 in the third period.

Trinity's best chance in the first period came on a one-on-one opportunity by Liam McKillop that was stopped by Buitenhuis. In the second period, Hawkrigg jumped on a deflected pass from the right wing and poked the puck past Buitenhuis for the Bantams' lone goal. Heilbron kept the score tied with a key save on a Jon Carkeek '17 shot 30 seconds before the second intermission.

In the third period, Buitenhuis made a diving stop against Jackson Brewer from close to the left of the net with 1:48 left. Murden nearly gave Hamilton the lead in the closing seconds after he stole the puck inside the left faceoff circle but Heilbron saved the shot with three seconds left.

Trinity came close to an overtime victory on two occasions. Ben Hjalmarsson was stopped by Buitenhuis on a rush with 2:20 left, and Brandon Cole's wrister from the left wing in transition sailed just wide of the net. Heilbron made one of his two overtime stops with a glove save just above his head on a rocket through traffic by Truman Landowski '17 with 41 seconds remaining.

The Continentals take on Utica College for a non-conference game at the Utica Memorial Auditorium on Friday, Nov. 28, at 2 p.m.