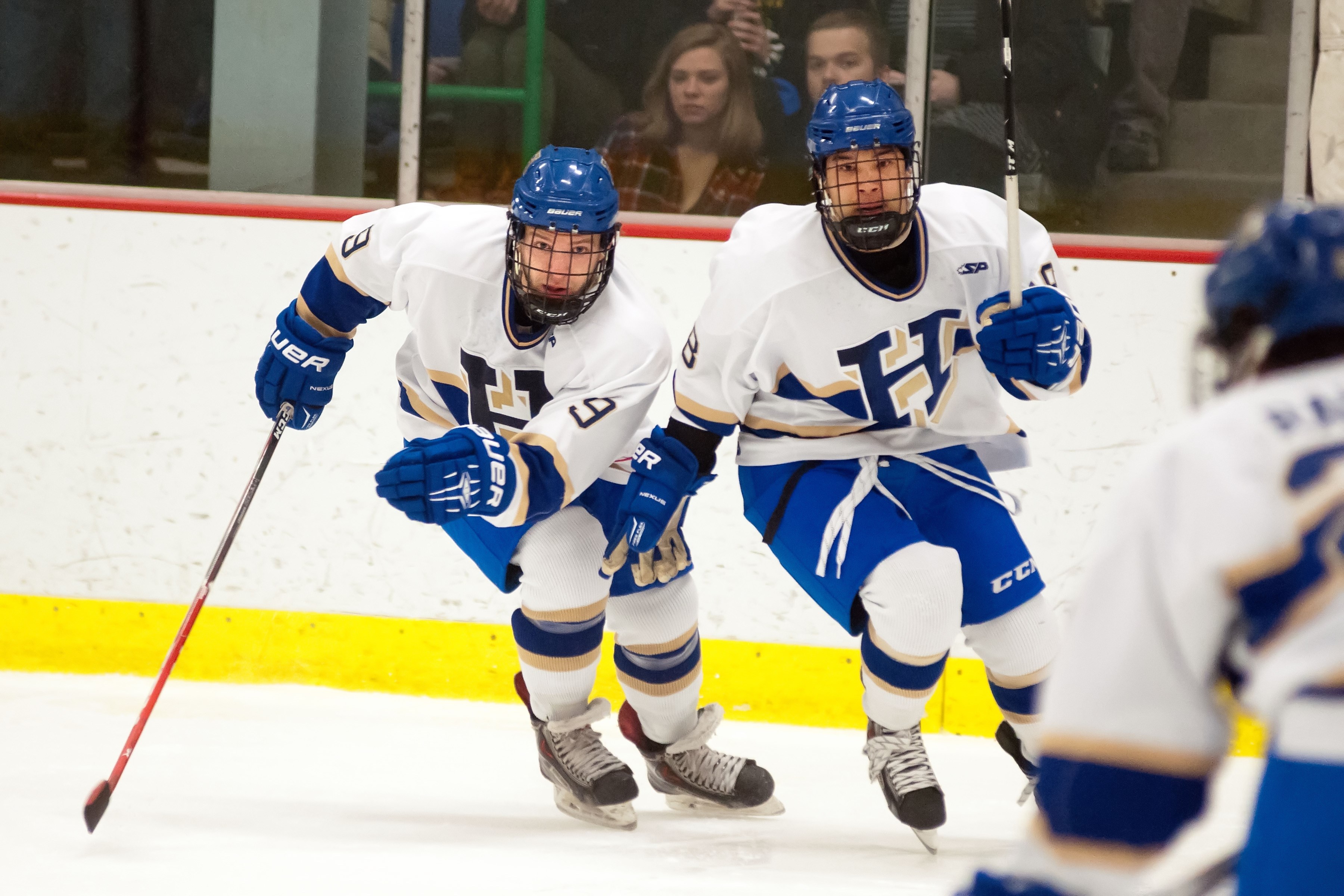 The Hamilton College men's hockey team tied a school record with their fourth tie of the season, playing the nationally ranked No. 11 Bowdoin College Polar Bears to a 4-4 overtime deadlock on Friday night at Russell Sage Rink.

Box Score

The Continentals (3-4-4, 2-2-2 NESCAC) have tied three of their last four opponents. They've already matched the school record set by the 2004-05 and 2010-11 teams. Three of the Continentals' four ties have come against nationally ranked teams: No. 8 Trinity College, No. 8 UMass Boston and Bowdoin.

The Polar Bears forced overtime with a pair of goals just nine seconds apart midway through the third period but Hamilton goaltender Zach Arnold '15 stopped Bowdoin's last five shots and Hamilton killed an overtime penalty to preserve the tie. Arnold finished with 38 saves in recording his fourth career overtime tie.

Tim Coffey '15 had three goals for Bowdoin (7-2-2, 3-2-2), scoring twice in a nine-second span to complete the hat trick. He capped a flurry in front of the net with his second goal of the game to pull the visitors to within a goal at the 9:22 mark. After Kendall Culbertson '17 won the ensuing faceoff, Coffey took a pass from Matt Sullivan '17 and tied the score with another shot from in front.

Sullivan and Camil Blanchet '18 assisted on Coffey's second goal. Blanchet's assist was his first collegiate point.

Arnold made a pair of saves in the five-minute overtime and Bowdoin's Max Fenkell '15 stopped four shots. Fenkell recorded the toughest save of the extra period just over a minute in, gloving a shot from Hamilton's Pat Curtis '15 after Curtis had faked right, then left before shooting.

Brandon Willett '18 scored the first two goals of his career to help the Continentals to a 3-1 lead nine minutes into the second period. His first collegiate goal opened the scoring when he redirected a shot past Fenkell after Neil Conway '18 tipped a slap shot taken by Conor Lamberti '17.

Conway also picked up an assist on Willett's other goal. After a strong forechecking effort by the Continentals kept the puck in the Bowdoin zone, Conway sent a great pass in front of the net to Willett. He deked Fenkell then went around the sprawling goaltender to put the puck into the right side of the net at the 8:54 mark of the second.

After Bowdoin's Matthew Lison '18 scored a power-play goal 3:26 later to cut the hosts' lead to a goal, Robbie Murden '17 scored his team-leading sixth goal of the season to put Hamilton up 4-2. Lamberti set up the goal from his own end, bouncing a cross-ice pass off the boards to Truman Landowski '17, who set up Murden for a one-on-one with Fenkell. Murden beat Fenkell with a backhand shot, recording the 17th goal of his 33-game career.

Coffey's first goal came with just 17 seconds left in the first after the centering pass he sent toward the net slipped between Arnold's pads, knotting the score at 1-1.

Curtis put the Continentals back on top just over four minutes into the second, taking advantage of a Bowdoin turnover for his fourth goal of the year. He stole an attempted clearing pass and beat Fenkell. Murden was credited with an assist.

Willett nearly had his own hat trick but Fenkell recorded his most impressive save of the night on a one-on-one with Willett, pushing the puck away with his left skate after Willett had faked left and shot right.

Hamilton continues its four-game homestand with a 3 p.m. game against Colby College on Saturday, Jan. 10. The Polar Bears play at No. 14 Amherst College to close out a six-game swing away from their home rink.