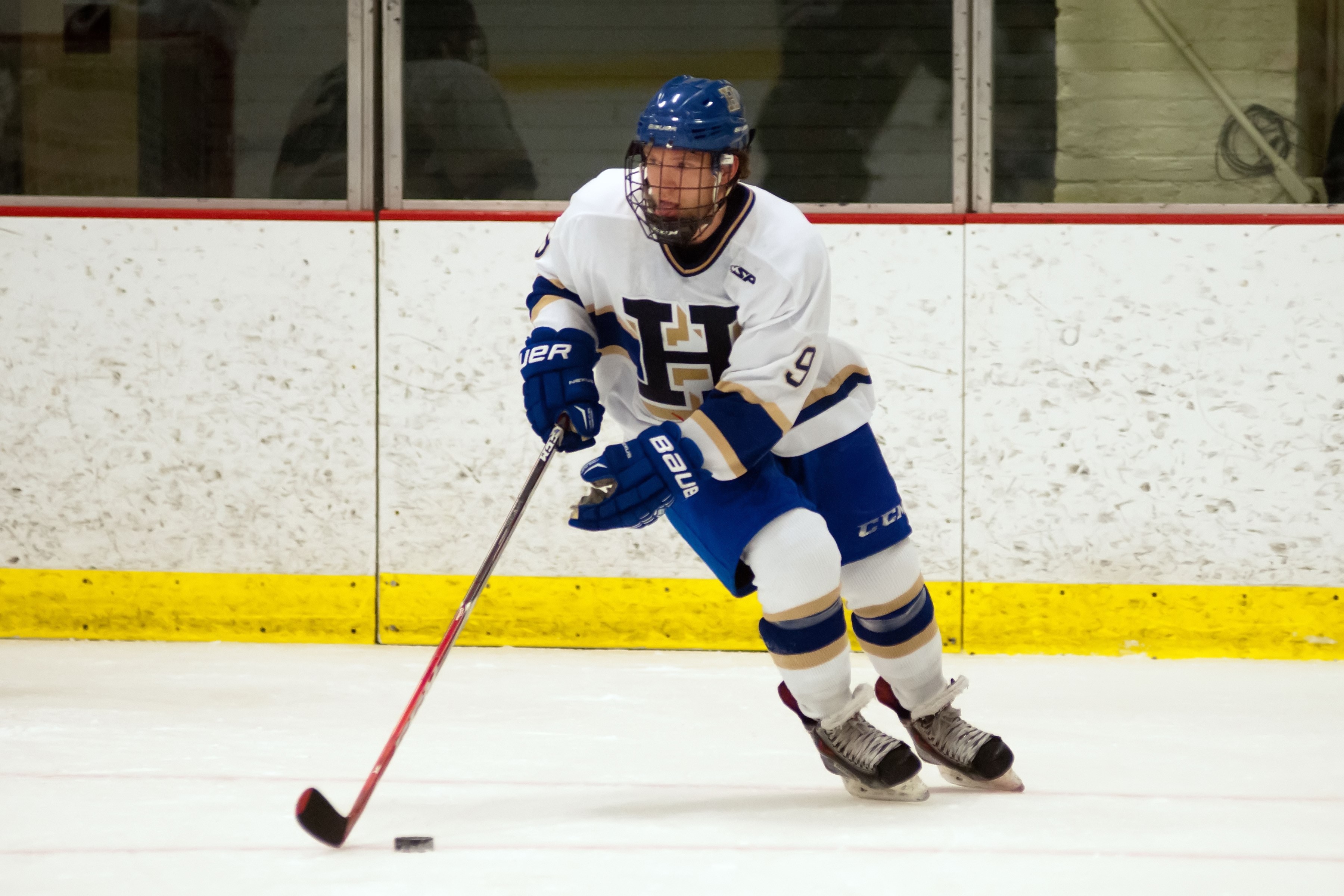 The Hamilton College men's hockey team moved a step closer toward hosting a quarterfinal game in the NESCAC playoffs by beating nationally ranked No. 14 Williams College 5-1 on Friday night in a NESCAC game at Russell Sage Rink. The Continentals won despite being outshot 52-22.

Box score

Hamilton (9-8-6, 7-6-4 NESCAC) can earn the right to host one of the four quarterfinals in next weekend's opening round of the eight-team NESCAC Championship with
* a win over Middlebury PLUS a loss or tie by Connecticut College
OR
* a tie against Middlebury PLUS a loss by Connecticut College AND a loss or tie by Bowdoin

Tim Nowacki '18 stopped a career-high 51 shots to earn his third win of the year. His save total was the highest by a Continental since Matt Crowson '07 made 51 saves at Babson College on Jan. 6, 2007.

Robbie Murden '17 collected three points for Hamilton and Truman Landowski '17 and Brandon Willett '18 had a goal and an assist apiece. Hamilton's win extended the Continentals' unbeaten streak to a NESCAC-best four games.

Hamilton scored twice in a 12-second span late in the opening period to take control. Pat Curtis '15 opened the scoring at 18:05 with his eighth goal of the season, taking a pass from Murden after gaining possession at the left boards. Willett won the ensuing faceoff for the Continentals, who had been outshot 15-6 before their outburst, and fed Landowski for a 2-0 Hamilton lead. Tyler Bruneteau '18 picked up the first of his two assists on Landowski's goal.

The teams traded goals midway through the second. Kenny Matheson '16 scored his ninth goal of the year 9:49 into the period to put Hamilton up 3-0 and the Ephs (14-7-2, 10-6-1) responded 2:35 later with Tyler Young '16 scoring a power-play goal. The Continentals regained their three-goal lead with 43 seconds left in the second when Willett sent a slap shot from the left circle past Williams goaltender Sean Dougherty '15.

Murden closed out the scoring with an empty-net goal in the final minute. The goal – his team-leading 13th – raised his season total to 30 points.

Dougherty finished with 17 saves while matching a career-worst by giving up four goals. The Continentals, who beat Williams 5-2 earlier this year, are the only team to score more than four goals against the Ephs all season.

Saturday's game between Hamilton and Middlebury College begins at 3 p.m. The Ephs play at No. 10 Amherst College on Saturday, Feb. 21.