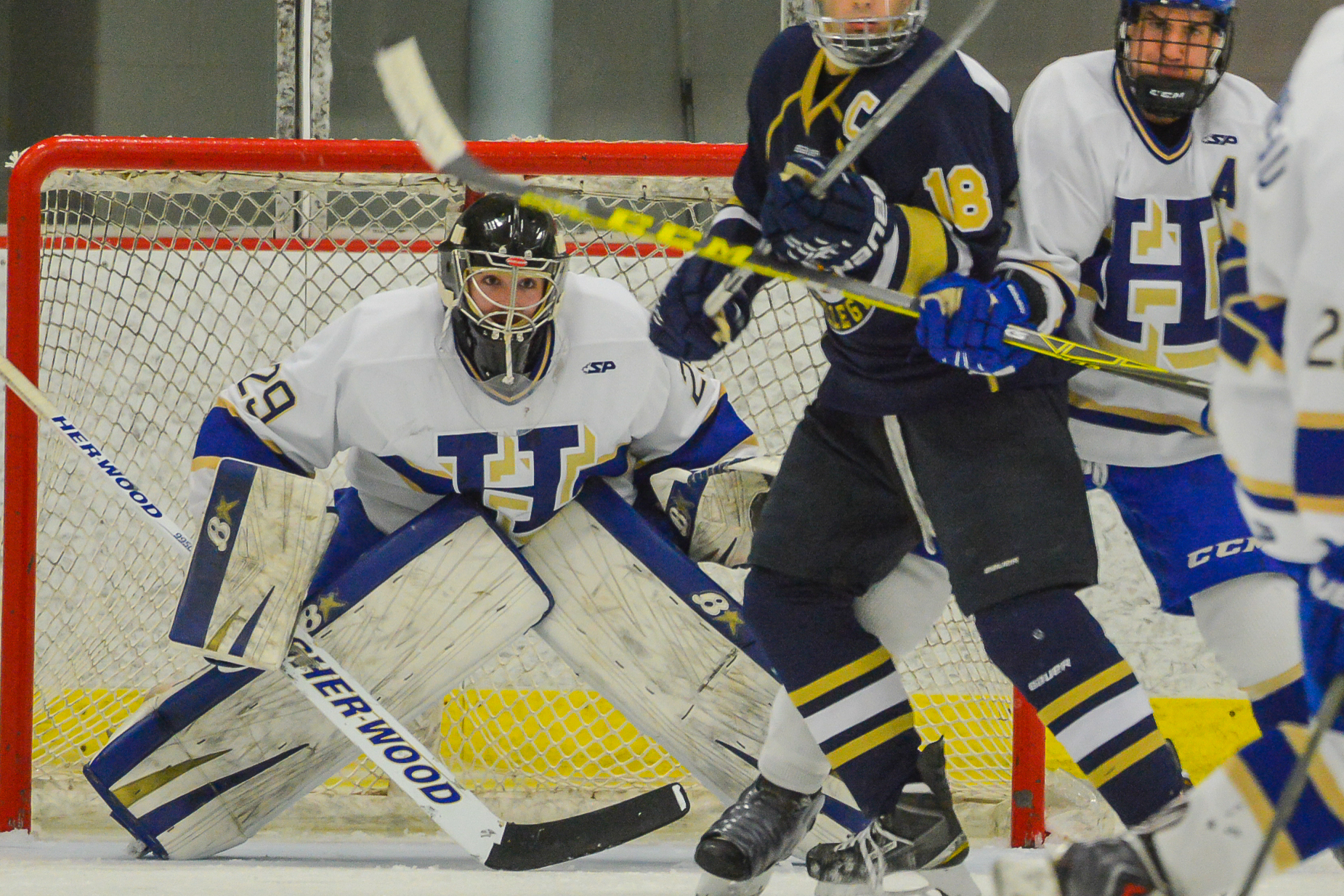 The Hamilton College men's hockey team held a two-goal lead on the defending national champions before visiting Trinity rallied for a 3-2 overtime win Saturday night at Russell Sage Rink.

Box score

The Bantams, ranked third nationally, forced overtime by scoring with 109 seconds left in the third period then put in the game winner 1:47 into the extra session. They earned the win despite a spectacular effort by Hamilton's Evan Buitenhuis '18, who stopped 51 shots in goal.

Robbie Murden '17 scored a goal in each of the first two periods as the Continentals (2-3-0, 0-2 NESCAC) took a 2-0 lead with 4:55 left in the second period.

Neither team got a shot off during the final minutes of regulation and the overtime period was all Trinity as the Bantams (4-1-0, 3-0) outshot the hosts 5-1. Buitenhuis made four saves in a flurry of Trinity offense before the Bantams lost possession; but before the Continentals could clear the puck out of their own end, Trinity regained possession and Elie Vered fed Ethan Holdaway for the game winner.

Trinity began its comeback with 2:09 left in the second period on a goal by Michael Hawkrigg, set up by Sean Orlando and Bradley Buvinow.

Brandon Cole picked up the tying goal late in the third – just minutes after Buvinow hit the crossbar. Cole ripped a shot from the right faceoff circle inside to Buitenhuis' glove side.
Murden's two goals give him a team-leading four this winter (he also leads the Continentals with four assists and eight points). His first score, just 3:29 into play, was assisted by T.J. Daigler '18 and Brandon Willett '18. Willett fed Murden for his second goal late in the second period. Murden's waist-high shot hit the stick of Trinity goaltender Alex Morin and bounced nearly straight up over the crease before landing behind Morin and taking one bounce before settling in the net.

Morin finished with 32 saves, stonewalling a pair of Continentals on second-period breakaway attempts.

Buitenhuis has now faced Trinity twice in his career, stopping 97 of 101 shots in two overtime contests – good for a 1.89 goals against average. He was at his best Saturday when the Bantams were skating with a man advantage. Buitenhuis made 16 saves while the Continentals were short-handed, helping them kill all seven Trinity power plays (the team's best performance since they stymied seven Colby attempts on Feb. 8, 2014).

Hamilton's penalty killing unit ranks second nationally, allowing just one goal in 23 opportunities. The Continentals have killed the last 16 power plays they've faced.

The Continentals conclude their weekend series Sunday with a 3 p.m. NESCAC game against Wesleyan at Russell Sage Rink.