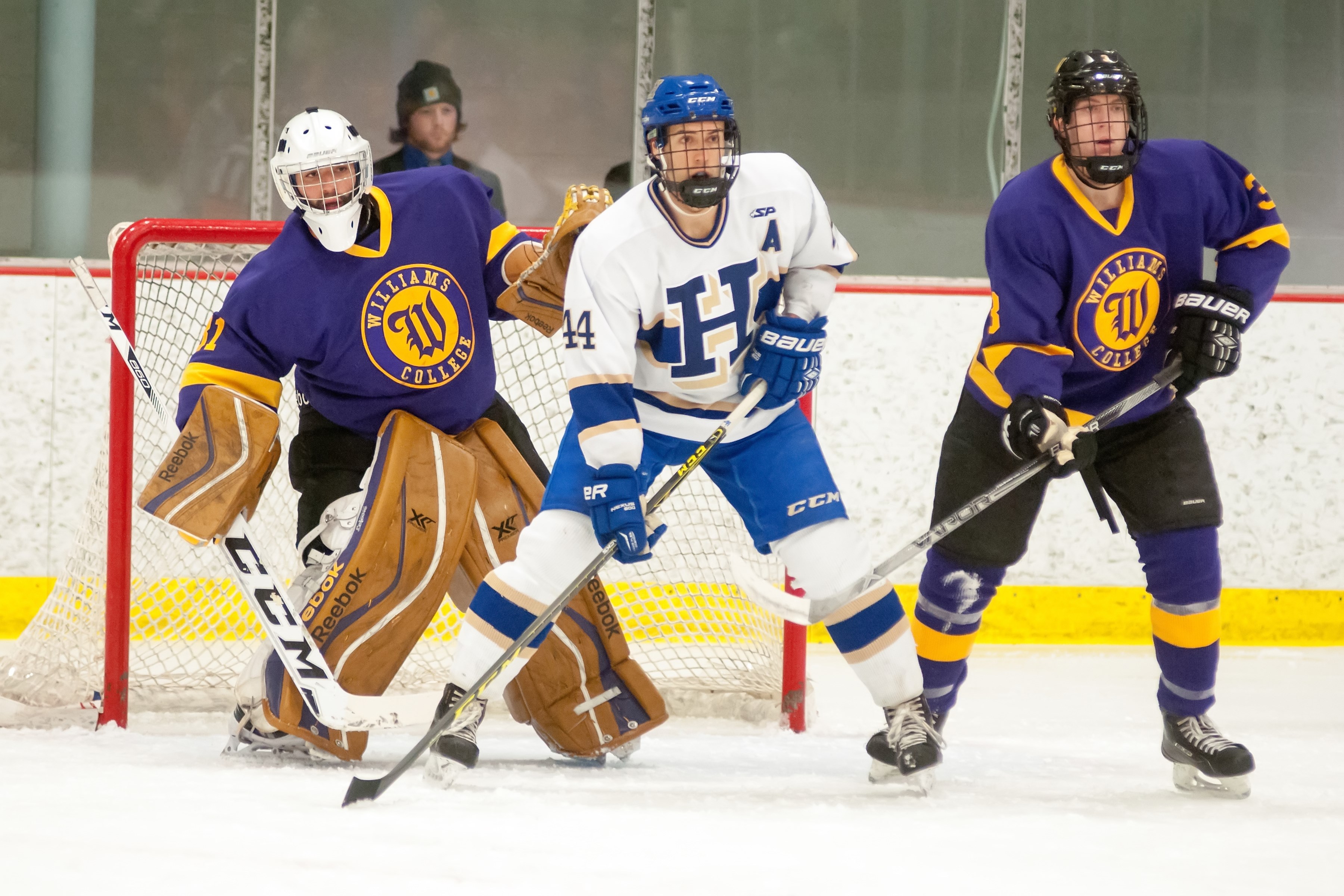 The Hamilton College men's hockey team opened the 2016 portion of its schedule with a 4-1 win over visiting Skidmore in a non-conference game played at Clinton Arena. The Continentals (5-3-1 overall) are unbeaten in their last four games.

Box score

Neil Conway '18 had a hand in Hamilton's last two goals and two other Continentals picked up two points. Evan Buitenhuis '18 stopped 37 of 38 shots.

Three of Hamilton's goals came with a man advantage: Tyler Lovejoy '16 and Brad Smelstor '17 picked up power-play goals and Robbie Murden '17 opened the game's scoring with an extra attacker goal late in the opening period.

Murden's team-leading sixth goal of the season came just 53 seconds before the first intermission. With the Thoroughbreds signaled for a delayed penalty the Continentals pulled Buitenhuis in favor of an extra skater and Murden struck just two seconds later.

Lovejoy's game winner came 8:20 into the second during Hamilton's third power play of the game. Kenny Matheson '16 and Truman Landowski '17 assisted on the goal.

Conway scored his second goal of the season with 4:14 to go in the second. Murden and Lovejoy assisted on the goal; they now have five and four, respectively.

Smelstor closed out the game's scoring with his first goal of the year 7:18 into the third. Brandon Willett '18 and Conway notched the assists. Conway, Murden and Landowski lead the team with five helpers each.

Buitenhuis stopped Skidmore's first 32 shots, keeping the Thoroughbreds off the board until 3:51 into the third period. A power-play goal by Anthony Bird cut Hamilton's lead to 3-1. Marc Cibelli and Adam Moodie were credited with assists on the play.

Bird's goal snapped a pair of lengthy streaks for Hamilton; the Continentals had killed off every power play of the last 35 consecutive penalties and Buitenhuis had not allowed a goal in more than 121 minutes.

Buitenhuis improved his goals-agaist average to 1.48 and his save percentage to .959. He moved to eighth and second in those respective categories nationally.

Despite Skidmore (2-9-1) scoring on the power play, the Continentals continue to lead the nation in penalty-killing efficiency at 94.6 percent. The only other power-play goal they've allowed was in the season opener at fifth-ranked Amherst.

The Continentals raised their lead to 12-5-0 in a series whose last seven games were all decided by one goal.

The two teams conclude their home-and-home series Saturday with a 4 p.m. game in Saratoga Springs.