Men's ice hockey moves into first place in NESCAC with win
---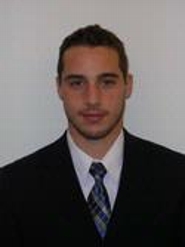 Anthony Ruberto '13 scored a short-handed goal to break a 3-3 tie with 2:57 left in the third period, and lift Hamilton College to a 4-3 win against Saint Anselm College in a NESCAC/ECAC East men's ice hockey crossover at Saint Anselm's Sullivan Arena on Feb. 11.

Hamilton (11-6-4 overall, 8-4-4 NESCAC) is tied for first place in the NESCAC standings with three games left. The Continentals are 3-0-2 in their last five games, and 8-3-1 away from Russell Sage Rink this season.

Ruberto finished with one goal and one assist, and was the only player with more than one point. He has four goals this season. Brandon Broad '12 had the assist on Ruberto's game-winner. Cam Gibbar '13 made 21 saves and picked up his first win for Hamilton.

The Continentals took their first lead at 3-2 with 3:44 left in the second period. Ruberto was credited with the assist on the second goal this season by defenseman Phil DiDonato '13. The Hawks tied the score at 5:26 of the third period on a goal by Jim Toomey.

Saint Anselm (10-7-2, 7-7-2 ECAC East) grabbed a 1-0 lead at 2:45 of the first period on a 5-on-3 power-play goal by Ryan Holley. Bryan Kelly '12 evened the score with his own power-play goal at 5:00 of the first. Kelly has nine goals this season.

Ryan Clark gave the Hawks a 2-1 lead with his second goal this season at 5:02 of the second. Nick Anderson '14 pulled Hamilton even again with his 13th goal during another power play at 9:55 of the period.

The Continentals owned a 30-24 shot advantage and won 29 of 50 face-offs. Hamilton was 2-for-5 on the power play, while Saint Anselm was 1-for-3. The Hawks had been unbeaten in their previous five games.

The Continentals travel to New England College for another NESCAC/ECAC East clash on Saturday, Feb. 12.