Men's ice hockey unbeaten in last six games
---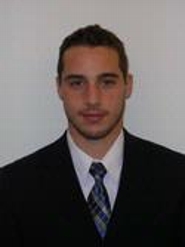 Anthony Ruberto '13 scored one goal and added two assists to lead visiting Hamilton College to a 4-3 win against New England College in a NESCAC/ECAC East men's ice hockey crossover game on Feb. 12.

Ruberto's three-point game is his first this season and the second of his career. He has five goals and 12 assists this season. Scott Hefferman '11 made 22 saves, including 10 in the third period, and improved his record in goal to 11-4.

Hamilton (12-6-4 overall, 9-4-4 NESCAC) remained tied for first place in the conference standings with two games remaining. The Continentals are 4-0-2 in their last six games, and 9-3-1 away from home this season. Hamilton travels to the University of Massachusetts-Boston for another NESCAC/ECAC East contest on Friday, Feb. 18.

Hamilton struck early as Ruberto stuffed in a loose puck on assists by Andrew Morrison '14 and Tom Chiappetta '11 just 45 seconds into the first period. NEC answered as Cam Geddes fired in a wrist shot two minutes later to knot the score at 1-1.

Hamilton regained the lead at 6:48 of the first as Joe Houk '13 scored his team-high 16th goal on assists by Thomas Williams '14 and Ruberto. The Continentals tacked on another goal at 9:08 in the first as Andrew Jelinek '13 scored his second this season off the rebound of a shot by Bryan Kelly '12.

NEC (7-14-2, 5-11-1 ECAC East) cut its deficit to 3-2 midway through the second period. Johan Qvarfordt put in a pass from Richard Ledy coming from behind the net to record the lone power-play goal of the afternoon. Hamilton regained its two-goal cushion with just 38 seconds remaining in the second when Anthony Scarpino '12 redirected a shot by Evan Haney '14 for his fifth goal.

NEC's Niko Uola pulled the Pilgrims within a goal at 11:56 of the third period with his team-high 19th goal on an assist by Aki Uola. The Pilgrims finished the period with an 11-5 shot advantage.

Sebastian Anderson recorded 16 saves for NEC. The Pilgrims held a 25-20 shot advantage for the afternoon. NEC was 1-for-5 on the power play, and killed all seven of the Continentals' chances.