Men's ice hockey bows to No. 6 Amherst
---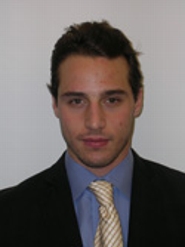 Johnny Van Siclen '13 tallied three goals and Jonathan La Rose '12 made 26 saves to lead nationally ranked No. 6 Amherst College to a 5-1 win over Hamilton College in a NESCAC game at Hamilton's Russell Sage Rink on Jan. 20.

Van Siclen leads the team with nine goals, and is tied for the team lead with 15 points. Andrew Kurlandski '14 chipped in two goals and an assist for the Lord Jeffs. Mike Rowbotham '15 added two assists, and Eddie Effinger '12, Aaron Deutsch '15, Jamie Hawkrigg '13, Mike Moher '13 and Jeremy Deutsch '12 posted one apiece.

Anthony Ruberto '13 scored his fifth goal for the Continentals. BJ Lalonde '12 and Anthony Scarpino '12 each tallied an assist. Joe Quattrocchi '14 stopped 32 shots in goal. Scarpino is second on the team with 10 goals and 10 assists.

Amherst (12-2-1 overall, 9-1-0 NESCAC) opened the scoring with a power-play goal at 9:27 of the first period. Aaron Deutsch played the puck up the left side to Hawkrigg, who fed a pass across the goal to Van Siclen for a one-timer high into the net. The Lord Jeffs led 1-0 at the first intermission.

Kurlandski doubled Amherst's lead with his third goal of the season at 5:50 of the second. Effinger played the puck around the left side to Rowbotham outside the left circle. Rowbotham's pass found Kurlandski for a one-time wrist shot into the back of the net.

Following a pair of Lord Jeff penalties just 21 seconds apart, Hamilton (7-7-1, 3-7-0) cut its deficit in half with a power-play goal at 7:45 of the period. Scarpino passed the puck from the left circle across to Lalonde inside the right circle, who sent the puck towards Ruberto in front. Ruberto collected and slid the puck into the net.

Amherst restored its two-goal cushion with 6:52 left in the period. After collecting a pass from Rowbotham, Kurlandski skated across the blue line and fired a slap shot from the left point that snuck inside the near post.

The Lord Jeffs stretched their lead to 4-1 with 1:38 remaining in the period when Van Siclen collected the puck off a faceoff and fired a shot from the right cirle into the net. Amherst led 4-1 at the second intermission. Van Siclen tallied his third goal with just 18 seconds remaining to close the scoring.

Amherst held a 37-27 shot advantage, and was 1-for-2 on the power play, while Hamilton was 1-for-3. It was the fourth consecutive win for the Lord Jeffs. The Continentals lead the all-time series, 55-18-3.

Hamilton hosts No. 2 SUNY Oswego for a non-conference game on Saturday, Jan. 21, at 3 p.m.