Men's ice hockey breezes to win over Southern Maine
---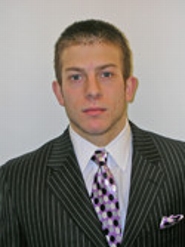 Joe Buicko '11 and Bryan Kelly '12 scored two goals apiece to lead Hamilton College to a 4-1 win against the University of Southern Maine in a NESCAC/ECAC East crossover game at Hamilton's Russell Sage Rink on Jan. 29.
Calvin Bartel '13 stopped 27 shots for Hamilton as his goals against average dipped to 2.99. Chris Lorenc '10 was credited with two assists. Lorenc leads the Continentals with 20 points.

Hamilton (9-6-2 overall, 6-5-1 NESCAC) grabbed a 1-0 lead at 9 minutes, 27 seconds of the first period on a power-play goal by Kelly. Joe Houk '13 and Steven Lucchetti '12 were credited with assists. The Continentals ended up 2-for-3 with the extra skater. Hamilton held the Huskies scoreless in three power-play chances, including 56 seconds of a 5-on-3 situation in the second period.

Southern Maine (8-8-2, 5-5-2 ECAC East) tied the score just 65 seconds into the second period. The Continentals responded with two goals later in the period. Kelly notched his fifth on another power play at 6:34. A shot by Anthony Ruberto '13 from the right circle was kicked away to Kelly, who put the puck into a wide open net from the left side. Andrew White '13 also picked up an assist. Buicko made the score 3-1 at 8:35 when he scored on a nifty move in front of the net after receiving a pass from Lorenc.

Buicko clinched the win with his fourth goal at 1:47 of the third period. Andrew Jelinek '13 and Lorenc tallied assists. Hamilton, which is 4-0-1 in its last five games, held a 33-28 advantage in shots. The Continentals lead the all-time series, 11-2-1.

Prior to the start of the game, Hamilton retired the jersey of the program's all-time leading scorer Mike Marta '84. Marta recorded a career-best 119 goals and 209 points and ranks fourth with 90 assists. He is tied for 19th place on the NCAA Division III career goals list, and ranks 19th on the career points per game list with 2.15.

Hamilton hosts the University of New England for another NESCAC/ECAC East crossover on Saturday, Jan. 30.