Men's ice hockey captures Skidmore Invitational title
---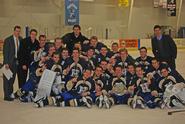 Anthony Scarpino '12 scored his third goal of the season with 1:14 remaining in the third period to lift Hamilton College to a 4-3 win over Skidmore College in the championship game of the Skidmore Invitational at Saratoga Springs City Rink on Nov. 27.

Bryan Kelly '12 scored two goals and Pat Curtis '15 recorded one goal and one assist for the Continentals. Mike DiMare '14 tallied three assists, while Scarpino, Brian Infante '13 and Andrew Jelinek '13 were credited with one each. Joe Quattrocchi '14 stopped 21 shots in goal. DiMare was named the tournament's Most Valuable Player and Quattrocchi was selected to the all-tournament team.

Nick Dupuis led the Thoroughbreds with a goal and an assist. Aaron Beck and Brendan Cottam chipped in one goal apiece. Tim Colvin was credited with two assists, and Tony Giacin, Zach Menard and Julian Malakorn added one each. Colin Bessey, who was pulled for an extra skater with 55 seconds left, stopped 17 shots.

A Skidmore penalty at 18:44 of the third led to a faceoff in its defensive end that DiMare won. He sent the puck to Scarpino, who one-timed it for the game-winner. DiMare leads the team with seven points.

Skidmore (3-5-0 overall) grabbed a 1-0 lead 4 minutes, 48 seconds into the first period when Beck tallied his second goal this season off assists from Giacin and Colvin. Hamilton answered at 10:19 with Kelly's first goal. Infante and Jelinek were credited with the assists. The point was the first for Infante this season.

The Thoroughbreds regained the lead via a power-play goal at 12:17 with Cottam's tally off assists from Dupuis and Menard. Skidmore led 2-1 at the first intermission.

Hamilton (2-1-1) pulled even again at 8:53 of the second period with Curtis' second goal this season. DiMare and Scarpino recorded the assists, and the teams were tied at the second intermission.

The Continentals took the lead for the first time with 5:08 left in the third on a power-play goal by Kelly on a shot from the point. The goal was Kelly's third of 2011-12, and DiMare and Curtis each tallied an assist.

Hamilton was called for a hit-from-behind major at 15:21 and Skidmore took advantage. Dupuis collected a rebound and fired it home to tie the score at 3-3 with 3:58 left. Colvin and Malakorn were credited with the assists.

Skidmore held a 24-21 shot advantage. The Continentals converted their lone power-play opportunity, while the Thoroughbreds were 2-for-7.

Hamilton returns home to Sage Rink to face Trinity College in NESCAC action on Saturday, Dec. 3.