Men's ice hockey clips Colby for NESCAC win
---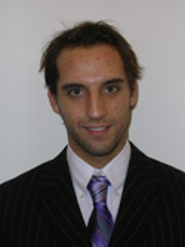 Joe Quattrocchi '14 made 31 saves and three players scored one goal each for Hamilton College as the Continentals edged Colby College 3-2 in a NESCAC game at Colby's Alfond Rink on Jan. 6.

Quattrocchi made 16 saves in the third period to help Hamilton hold on for the road win. He has a 2.66 goals against average and .921 save percentage in 2011-12.

Mike DiMare '14, Bryan Kelly '12 and Pat Curtis '15 scored the goals for the Continentals. Andrew White '13 was credited with two assists and Anthony Scarpino '12 and DiMare picked up one apiece. DiMare leads the team with 17 points.

Nick Lanza and Mike Doherty posted one goal and one assist apiece for the Mules. Matt Delaney turned aside 19 shots.

Hamilton (5-4-1 overall, 2-4-0 NESCAC) grabbed a 2-0 lead in the first period. Kelly scored his fifth goal this season while the Continentals were short-handed with 6:01 left in the period. Curtis gave Hamilton a two-goal cushion on his fourth with 3:48 remaining.

Lanza cut Colby's deficit in half on his goal at 5:52 of the second period. The score remained 2-1 until early in the third period when DiMare restored the Continentals' two-goal lead with his seventh 40 seconds into the period. Doherty made it 3-2 just 11 seconds later after Colby won the ensuing faceoff.

The Mules (3-7-0, 1-6) pulled Delaney for an extra skater with 40 seconds left, but didn't net the equalizer. Colby enjoyed a 33-22 shot advantage. The Continentals didn't score on their five power-play chances, and killed all four of the Mules' extra-skater opportunities.

Hamilton travels to Bowdoin College for another NESCAC game on Saturday, Jan. 7.