Men's ice hockey defeats New England College
---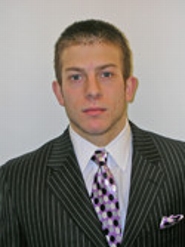 Joe Buicko '11 scored two goals and Scott Hefferman '11 stopped all 14 shots he faced in the third period to lead Hamilton College to a 5-3 win over visiting New England College in a NESCAC/ECAC East crossover game at Hamilton's Russell Sage Rink on Feb. 13.
Harry Biggs '10 and Ryan Guerin '11 each scored one goal and tallied one assist for the Continentals (12-8-2 overall, 9-7-1 NESCAC). Joe Houk '13 earned three assists, Anthony Ruberto '13 recorded two assists and Andrew Jelinek '13 added one goal. Hefferman relieved starting goalie Ian Stearns '10, who made 16 saves in the first two periods.
Jelinek scored his fourth goal of the season 4 minutes, 17 seconds into the first period off assists from Houk and Ruberto. The Pilgrims (9-12-2, 5-10-2 ECAC East) tied the score 7:15 into the first. Buicko took back the lead for the Continentals with his first goal of the game with 5:10 remaining in the opening period.
Guerin added to the Continentals lead at 5:06 of the second period on a Hamilton power play with his second goal of the season. Biggs and Houk earned the assists. New England College recorded a power-play goal of its own to cut the Continentals' lead to 3-2 at 14:49 in the second. With 1:42 left in the middle period, the Pilgrims tied the score again with their second power-play goal.
After one of the Pilgrims was sent to the penalty box for charging early in the third, Biggs capitalized on the power play with his fourth goal off assists from Ruberto and Guerin at 1:17. Late in the third, New England College was called for too many players on the ice. Buicko took advantage of the extra skater, and tallied his ninth goal with 3:02 remaining to account for the final margin. Tom Chiappetta '11 and BJ Lalonde '12 were credited with assists.
The Continentals finished 3-for-8 on the power play, while the Pilgrims were 2-for-6. New England College held a slight 33-30 advantage in shots on goal.
Hamilton will host the University of Massachusetts-Boston for another NESCAC/ECAC East crossover game on Friday, Feb. 19.