Men's ice hockey defeats Southern Maine
---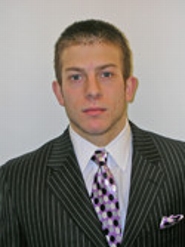 Nick Anderson '14 and Joe Buicko '11 scored one goal and tallied one assist apiece to lead Hamilton College to a 3-1 win over the University of Southern Maine in a NESCAC/ECAC East crossover game at the USM Ice Arena on Jan. 28.

Hamilton (9-6-2 overall, 6-4-2 NESCAC) grabbed a 1-0 lead 7:56 into the first period when Evan Haney '14 scored his third goal of the season off assists from Anderson and John Ogden '13.

The Continentals took a tw0-goal lead at 6:43 of the second period when Anderson scored his 10th goal of the season. Michael DiMare '14 and Buicko were credited with the assists. Buicko leads the team with 13 helpers.

The Huskies (4-10-3, 2-9-1 ECAC East) scored their only goal 9:35 into the third. Buicko sealed Hamilton's victory on an empty-net goal with only 53 seconds remaining in the final period. The goal was Buicko's third of the season.

Scott Hefferman '11 had 23 saves for the Continentals. Hefferman improved his goals against average to 2.29 and his save percentage to .920. Braely Torris blocked 27 shots for Southern Maine.

The Continentals finished 0-for-5 on the power play, and the Huskies were 0-for-6. Hamilton held a 30-24 advantage in shots on goal. Southern Maine is winless in its last eight games.

Hamilton plays the University of New England for another NESCAC/ECAC East crossover game on Saturday, Jan. 29, at 3 p.m.