Men's ice hockey drops game to nationally ranked Amherst
---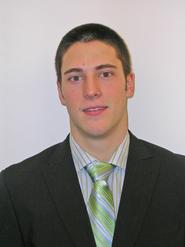 Nationally ranked No. 9 Amherst College rallied from a two-goal deficit in the third period and pulled out a 6-4 win over Hamilton College in a New England Small College Athletic Conference game at Hamilton's Russell Sage Rink on Jan. 12.
Anthony Scarpino '12, Anthony Ruberto '13, Chris Lorenc '10 and BJ Lalonde '12 scored one goal each for the Continentals (5-6-1 overall, 2-5-0 NESCAC). Lorenc leads the team with eight goals. Bryan Kelly '12 picked up a pair of assists and Scott Hefferman '11 stopped 27 shots.
The Lord Jeffs (9-2-1, 4-2-1) got on the scoreboard first with 3 minutes, 34 seconds left in the first period. Amherst took advantage of a 5-on-3 power play during a Hamilton 5-minute major for hitting from behind that was called with 3:59 left in the first. The Continentals tied the score with 1:52 left in the period when Ruberto scored a short-handed goal -- his third goal of the season. Ryan Guerin '11 and Jerome Wallace '10 were credited with assists.
Amherst opened the second period with a goal just 51 seconds in while still skating a man-up due to the five minute major. Hamilton then scored three goals later in the period to erase a 2-1 deficit and take a 4-2 lead. Lorenc scored at 5:57 off assists from Dan Roberts '11 and Joe Buicko '11. Scarpino scored his sixth of the season at 9:12 on an assist from Kelly. With 1:54 remaining in the period, Lalonde scored his second goal of the season off assists from Harry Biggs '10 and Kelly.

However, the Lord Jeffs stormed back with four unanswered goals in the final 20 minutes. Amherst held a 15-2 shot advantage in the decisive third period. The rally started for the Lord Jeffs with a goal at 3:53 of the period. Amherst tied the score 10:15 into the third.

Amherst notched the game-winner with 1:41 left. The Continentals pulled Hefferman for an extra skater with 55 seconds remaining, but the Lord Jeffs clinched the win on a shot from center ice into the empty net with 27 seconds left.

Amherst went 2-for-4 on the power play. Hamilton ended up 0-for-3 with the extra skater. The Jeffs have won the last four meetings with the Continentals, but Hamilton still enjoys a 55-16-2 lead in the all-time series.
The Continentals host Tufts University for another NESCAC game on Friday, Jan. 15.