Men's ice hockey edged by Hobart for Oswego tournament title
---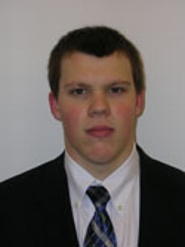 Christopher Bower's goal with 6:43 left in the third period broke a 1-1 tie and lifted Hobart College to a 2-1 win against Hamilton College in the championship game of SUNY Oswego's PathFinder Bank Hockey Classic at Campus Center Ice Arena on Dec. 31.

Hobart (7-3-1 overall) won its fifth straight game, including a 6-3 victory against University of Wisconsin-Stevens Point in the tournament's first round on Thursday. Hamilton (5-4-0) defeated nationally ranked No. 1 Oswego 5-1 in Thursday's nightcap.

Kyle Whitaker and Thomas Capalbo were credited with assists on Bower's game-winning goal. Nick Broadwater made 35 saves, including 17 in a scoreless first period, for the Statesmen. Bower was named the tournament's most valuable player, and Broadwater was selected to the all-tournament team.

David Stevens gave Hobart a 1-0 lead at 8:08 of the second period with his third goal this season. The goal came with 10 seconds left on a power play after the Continentals' Anthony Ruberto '13 was sent off for two minutes for interference. Ryan Corcoran's blast from the left point was deflected by Stevens into the back of the net.

Joe Houk '13 retaliated for Hamilton on his own power-play goal with 2:59 left in the second. Houk took a slap shot from the right point that went above Broadwater's left shoulder. Bryan Kelly '12 picked up an assist and finished the tournament with three points.

Houk leads the Continentals with seven goals, and has four goals and five points in the last three games. He and Nick Anderson '14 made the all-tournament team for Hamilton. Anderson scored two goals against the Lakers on Thursday.

In the third period, the Continentals' John Ogden '13 just missed giving Hamilton its first lead, but his wrist shot clanged off the crossbar. The Statesmen countered with an odd-man rush that resulted in Whitaker feeding the puck to Bower for the final goal.

Hamilton pulled goalie Scott Hefferman '11 with 56 seconds left in the third period for an extra skater in an attempt to tie the score. Hefferman (22 saves) has a 2.22 goals against average and .930 save percentage.

The Continentals held a 36-24 shot advantage. Both teams were 1-for-4 on the power play. Hamilton returns home to Russell Sage Rink on Friday, Jan. 7, to take on New England Small College Athletic Conference rival Middlebury College.