Men's ice hockey edged by No. 7 Amherst
---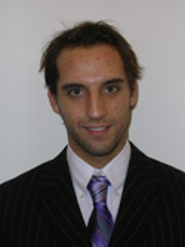 Mike Moher '13 scored a power-play goal in the first period and Nathan Corey '13 stopped all 26 shots he faced as nationally ranked No. 7 Amherst College shut out Hamilton College 1-0 in a NESCAC game at Hamilton's Russell Sage Rink on Nov. 16.

Tonight's game was the season opener for both teams. Amherst has won four straight against the Continentals and is 8-0-1 in its last nine games against Hamilton. Corey posted the sixth shutout of his career.

Aaron Deutsch '15 and Mike Cashman '15 were credited with the assists on Moher's goal that came at the 7:35 mark of the first. Moher received a pass from the left circle and fired a wrist shot from near the center of the right circle for the lone goal of the evening.

Joe Quattrocchi '14 turned away 24 shots for the Continentals, who held a slim 26-25 shot advantage. Hamilton went 0-for-7 on the power play.

Dom Jancaterino '14 had a breakaway opportunity for the Continentals midway through the second period, but couldn't get a shot off. With around eight minutes remaining in the third period, Corey made a save on a point-blank shot to keep the Lord Jeffs in front.

About one minute later, Hamilton's Nick Vassos '15 passed to Evan Haney '14 in front of the net, but Haney couldn't handle the puck. Vassos had another great scoring chance with less than two minutes left, but Corey came up with one more huge save. The Continentals pulled Quattrocchi for an extra skater with 1:39 left.

The two teams play each other again -- this time at Amherst -- on Saturday, Nov. 17.