Men's ice hockey edged in OT at No. 11 Middlebury
---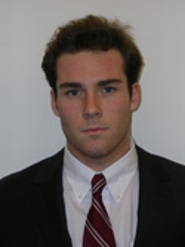 Ben Wiggins scored 31 seconds into the sudden-victory overtime period and lifted nationally ranked No. 11 Middlebury College to a 5-4 NESCAC win against Hamilton College at Middlebury's Kenyon Arena on Dec. 7.

Hamilton (1-4-2 overall, 1-3-1 NESCAC) has gone to overtime in each of its last four games. Six of the Continentals' seven games have been decided by one goal or ended in a tie.

George Ordway led the Panthers with one goal and two assists. Wiggins, Louis Belisle and Derek Pimentel posted one goal and one assist each. Matt Silcoff chipped in one goal and four players were credited with one helper. Nick BonDurant made 20 saves.

Pat Curtis '15 recorded one goal and two assists for Hamilton. Dom Jancaterino '14 contributed one goal and one assist, and Andrew Jelinek '13 and Anthony Ruberto '13 scored one goal apiece. Ruberto, who tied the score late in the third period, leads the team with four goals and is tied for the team lead with six points.

Marko Brelih '16 finished with three assists and tops the Continentals with four. Brelih has five points in his last three games and six this season. Joe Quattrocchi '14 made 18 saves, including eight in the third period.

In overtime, Wiggins took a feed from Belisle, skated across the goal mouth and scored on a backhander to the top corner. The goal was Wiggins' first this season.

Hamilton took a 1-0 lead with a power-play goal 10:40 into the first period. Curtis' original shot was saved, but left a big rebound to Jancaterino, who finished from the left side for his second goal. The Panthers earned their own power-play goal exactly two minutes later when Pimentel finished on the doorstep after a shot from the left point by Terrance Goguen hit traffic in front.

Middlebury (4-1-2, 3-0-2) took a 2-1 lead with 5:03 left in the first when Ordway scored in transition on a backhander after a nice move through the slot. The lead grew to 3-1 with 39 seconds remaining in the period on a shorthanded tally. Ordway made a nice centering pass to Belisle who scored his team-leading sixth of the season.

Hamilton cut into its deficit with a 5-on-3 goal just 33 seconds into the second session. After a pair of blasts from the point were stopped, Curtis scored his first this season on the rebound to make it 3-2. Middlebury wasted little time regaining its two-goal advantage, as the Panthers scored on the power play 2:19 into the period. Ordway made a nice backhand pass to an open Silcoff on the left side, and he finished with a quick wrister.

The Continentals climbed within one at 6:08 of the third period when Jelinek scored his first this season on a snap shot from the right side. Hamilton forced overtime with an extra attacker on the ice and just 6 seconds remaining. After the original shot was blocked, the puck fell to the ice and a scramble ensued. Ruberto skated to the crease and quickly slapped the puck into the back of the net from the slot.

The Continentals held a 24-23 edge in shots, and were 2-for-6 on the power play. Middlebury converted both of its power-play opportunities.

Hamilton travels to Williams College for another NESCAC game on Saturday, Dec. 8.