Men's ice hockey edges Connecticut College in overtime
---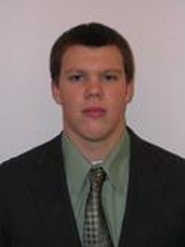 Joe Houk '13 scored with 34 seconds left in overtime to lift Hamilton College to a 3-2 victory against visiting Connecticut College in a New England Small College Athletic Conference game at Russell Sage Rink on Jan. 16.

Houk skated up the left side, swept across the ice and in front of the crease before he tucked the puck past the Conn. College goalie on the right side of the goal. The goal is Houk's second at Hamilton. Tom Chiappetta '11 was credited with an assist.

Harry Biggs '10 led the Continentals' offense with two goals. Calvin Bartel '13 stopped 25 shots as his record in goal improved to 5-3-0. Bartel needed to make just one save in overtime. Hamilton (7-6-1 overall, 4-5-0 NESCAC) held a 4-1 shot advantage in the extra period.

Biggs staked the Continentals to a 2-0 lead with his second and third goals this season. He scored unassisted with 4:16 left in the first period -- just three seconds after a Hamilton penalty expired. Biggs notched the second goal 2 minutes, 33 seconds into the second period. Jerome Wallace '10 picked up the assist.

The Camels (3-10-1, 2-6-1) rallied with their first goal at 8:05 of the second period. A Conn. College player stole the puck deep in the Continentals' defensive zone and ripped a wrist shot past Bartel. The Camels tied the score just 44 seconds into the third period.

Hamilton missed a great chance to win the game in regulation as the Continentals had a 5-on-3 power play for 73 seconds late in the third period, but didn't convert. Hamilton ended up 0-for-6 with the extra skater and Conn. College was 0-for-5. The Continentals had lost the last three meetings with Conn. College, but Hamilton leads the all-time series, 14-6-1.

The Continentals travel to Castleton State College for a NESCAC/ECAC East crossover on Friday, Jan. 22.