Men's ice hockey explodes for 10 goals in road win
---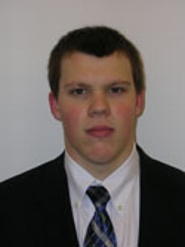 Joe Houk '13 scored two goals and was credited with four assists to lead Hamilton College to a wild 10-7 win against the University of New England in a NESCAC/ECAC East men's ice hockey crossover game at UNE's Biddeford Arena on Jan. 29.

Hamilton (10-6-2 overall, 7-4-2 NESCAC) is unbeaten in its last five games away from home. The 10 goals are the most for the Continentals since they blanked Castleton State College 10-0 on Jan. 22, 2005. Hamilton scored eight times in the second period to break things open.

Houk's six points represent the most for him in a single game at Hamilton. He leads the team with 13 goals and 24 points. Houk, Bryan Kelly '12 and Michael DiMare '14 each scored two goals -- all in the decisive second frame -- to lead the way. DiMare added two assists.

Joe Buicko '11, Anthony Scarpino '12, Andrew Morrison '14 and Nick Anderson '14 added a goal apiece for Hamilton. Anderson had two assists while Scarpino and Buicko had one apiece. Buicko's assist gives him 50 for the Continentals. Andrew White '13 added three helpers.

Seven different players notched a goal for the Nor'easters (3-14-0, 1-12 ECAC East), including Jack Nolin '11, Kyle MacLennan '12, Mike Tiano '12, Tyler Fleurent '13, Scott McManaman '13, Zach Lokey '14 and Sean Sullivan '14. Fleurent and Sullivan each handed out a pair of assists for the Nor'easters, who were outshot 35-16. Hamilton struck four times on the power play, with each tally in the second frame.

The Continentals trailed 2-1 after the first period, but opened the second with four straight goals to take the lead for good. Buicko's fourth goal this season made the score 3-2 Hamilton at 4:36. After two goals by UNE pulled the Nor'easters within 5-4, both Kelly and Houk scored a pair of goals in the final 8:07 of the second for a commanding 9-4 advantage.

Continentals' starting goaltender Scott Hefferman '11 picked up the win with four saves in 40 minutes. Cam Gibbar '13 and Joe Quattrocchi '14 combined to make five saves in the third.

UNE Connor Brogan '14 made 10 saves before giving way to Mike Roper '11 in the second period. Roper made 15 stops.

Hamilton hosts Colby College in NESCAC action at 7 p.m. on Friday, Feb. 4.