Men's ice hockey falls at No. 15 Amherst
---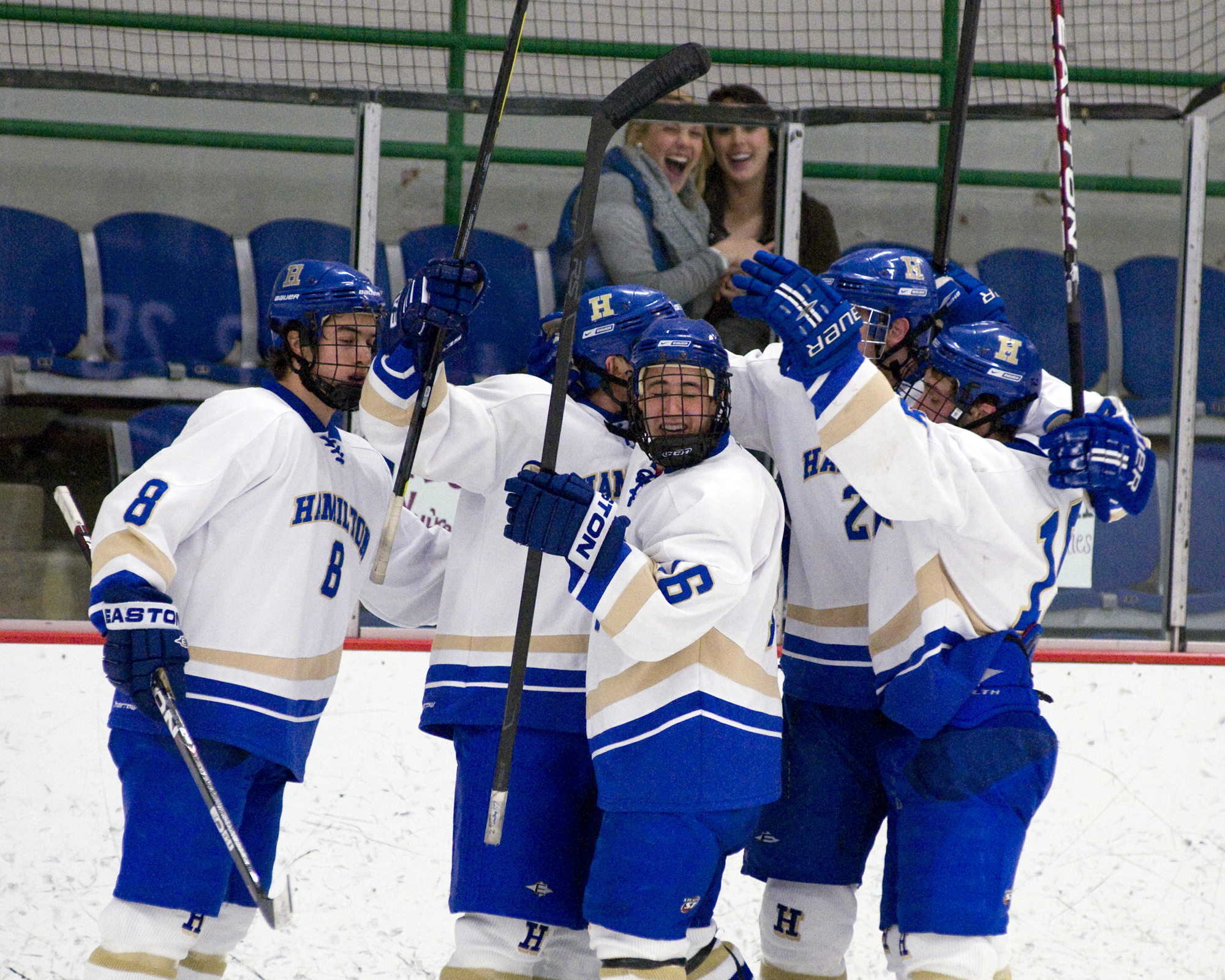 Amherst College's Brian Safstrom and Conor Brown posted two goals and one assist apiece as the nationally ranked No. 15 Lord Jeffs defeated the Hamilton College Continentals 5-2 in a NESCAC game at Amherst's Orr Rink on Nov. 15.

Box score

Mike Rowbotham scored the other goal and Aaron Deutsch was credited with a pair of assists for Amherst. Dave Cunningham made 19 saves.

Robbie Murden '17 scored his first goal for Hamilton and Mike DiMare '14 tallied the 34th of his career for the Continentals. Kenny Matheson '16 and Robbie Gardiner '16 added one assist apiece, and Joe Quattrocchi '14 stopped 19 shots.

Outshot 8-6 in the opening period, the Jeffs held an 18-13 shot advantage over the final two frames and finished with a 24-21 edge.

After it was unable to take advantage of a pair of early power plays, Amherst dug the puck out of its own corner and raced up ice. Topher Flanagan brought it up the right side and centered a pass to a charging Brown, who back-handed a hard shot past Quattrocchi for the Jeffs' first tally of the season with 5:29 left in the first period.

Andrew Kurlandski '14 created a turnover at the Amherst blue line while the Jeffs were short-handed minutes later. Kurlandski broke in alone on net, but a hustling defender dove and poked the puck away before he could get a shot off. Amherst led 1-0 after one period.

The Jeffs (1-0-0, 1-0-0 NESCAC) created a couple of scoring chances early in the second period while they were playing a man down. Safstrom found himself alone in front and tried to stuff a shot inside the right post, but Quattrocchi made a sprawling pad save. Later on an odd-man rush, Safstrom fired a wrister just wide.

Matheson generated the Continentals' first good scoring opportunity, but Cunningham stacked his pads and stonewalled the forward's breakaway chance. Safstrom got his own breakaway opportunity moments later, but Quattrocchi was there to make the stop.

Amherst took advantage of its third power-play opportunity and added to its cushion at the 6:03 mark of the second. Safstrom found open space on the left post and finally solved Quattrocchi on a shot tucked into the near side.

Hamilton (0-1-0, 0-1-0) got one back with under eight minutes to play in the middle period when Gardiner found Murden in front. Murden quickly cut to the goal and slipped a shot past Cunningham at 12:45 that cut the visitors' deficit in half. The Continentals trailed 2-1 after two.

Amherst threatened to pad its cushion on its second man-up opportunity of the final period. Deutsch held the puck at the blue line and slid a pass to Rowbotham, who one-timed a shot from the right circle for a 3-1 lead at 5:36. Four minutes later, Safstrom put away his second goal as he hammered a rebound in front that made it a three-goal game.

Hamilton cut into its deficit on a power-play opportunity with 6:08 remaining. Matheson carried the puck on the left side and slotted a cross-ice pass to DiMare, who was waiting at the back post, and he beat Cunningham on the short side.

The Continentals put a pair of shots on net inside the four-minute mark, but could not get one by Cunningham. Unable to pull closer despite a late power play, Hamilton pulled its goalie, but Brown scored an empty-netter with 53 seconds left that clinched the win for the Jeffs.

The Continentals host Amherst on Saturday, Nov. 16, at 7 p.m.