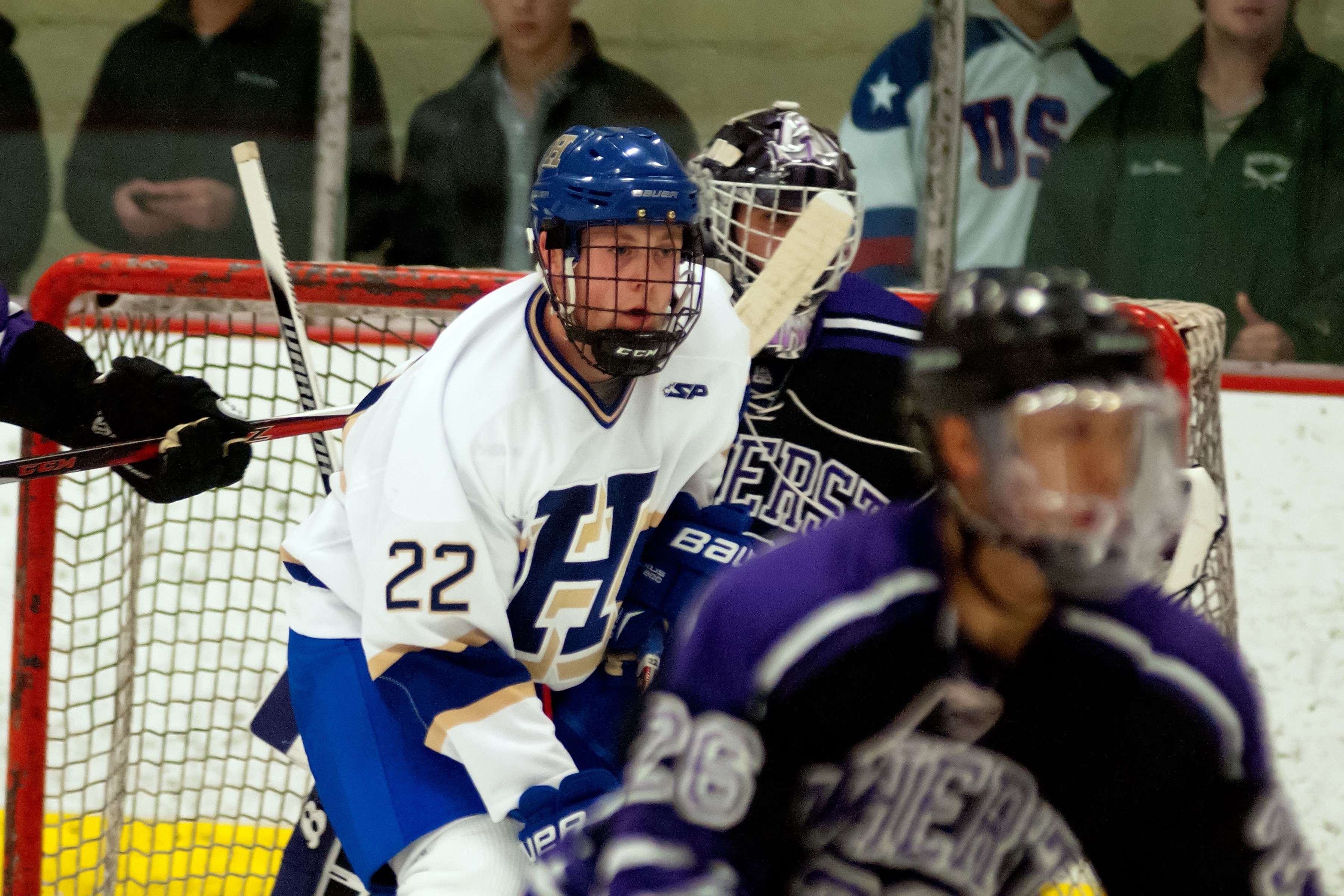 The Hamilton College men's hockey team scored three times in the final 6:09 to rally past host Williams College 5-2 in a NESCAC game in Williamstown, Mass., on Friday night.

Box Score

The Continentals (3-2-1 overall, 2-1-1 NESCAC) snapped a seven-game winless streak against the Ephs and posted their first regular-season win in Lansing-Chapman Rink since Dec. 2, 2000.

Tyler Bruneteau '18 scored the first two goals of his career, including the game winner at the 13:51 mark, and closed out the scoring with Hamilton's second empty-net goal. Marko Brelih '16 scored a pair of second-period power-play goals as the Continentals erased Williams' 1-0 first-period lead.

Bruneteau's game-winning goal came off a faceoff that was won by Nick Vassos '15, who picked up his second assist of the season on the play. Robbie Murden '17 scored his fourth goal of the season into an empty Williams net with 47 seconds left and Bruneteau added an empty-net goal 23 seconds later.

Charlie Fennell '17 made nine of his 30 saves in the third period, including five with the score tied. He stopped four shots in the final five minutes of the second period to help the Continentals kill a five-minute power play for the Ephs.

Williams' Sam Gray '17 scored the only goal of the first period, putting the hosts up 1-0 at 6:08 off assists from George Hunkele '17 and Luke Stickel '17.

Hamilton converted consecutive power-play opportunities early in the second with Brelih scoring both goals. Kenny Matheson '16 assisted on Brelih's second goal, which put the visitors ahead 2-1 with 10:11 remaining in the period. Matheson's five assists and nine points are both tied for the team lead. The two-goal game was the second of Brelih's career.

Craig Kitto '15 scored a power-play goal to tie the score 1:45 later with James McNamara '17 and David Jarrett '15 credited with assists. The Continentals have killed 23 of 26 penalties this winter.

Sean Dougherty '15 made 21 saves for Williams (4-2-1, 3-1-1), which outshot the Continentals 32-26. The Ephs, who lost their second in a row, had posted an undefeated start through four games. They are second among teams receiving votes in the latest Division III coaches poll.

The Continentals continue conference play on Saturday, Dec. 6, with a 4 p.m. game at Middlebury College. Williams hosts nationally ranked No. 15 Amherst College on Saturday afternoon.