Men's ice hockey presents 2010 awards
---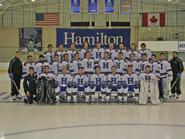 The Hamilton College men's hockey team held their annual awards banquet at the Skenandoa Club in Clinton on the evening of April 19.
Joe Buicko '11 was selected the 2010 Most Valuable Player. The forward and team captain finished the season with 10 goals and tied for second on the team with 14 assists for a total of 24 points.
Buicko also received the Albert I. Prettyman Award. The award is presented in memory of Albert Prettyman, who was the founder of Hamilton hockey and the College's first hockey coach from 1918 to 1943. He was also the U.S. Olympic Coach in 1936. This award is presented to the player who demonstrated outstanding dedication, determination and desire. His attitude has proven to be not only an asset to his team, but an inspiration to his teammates and coaches.

Harry Biggs '10 received the Coaches Award, which is given to the player who the coaching staff believed had a strong season and impacted the game in a positive and significant manner. The forward and assistant captain scored four goals and added nine assists in 26 games.

Bryan Kelly '12 received the Most Improved Player Award, which is given to the player who showed great dedication to improve his game throughout the season or from the previous season. The forward scored nine goals and was credited with nine assists in 26 games. Kelly was named the NESCAC player of the week on Feb. 1, 2010.

Jerome Wallace '10 received the Michael S. White Award, which is given to a graduating senior in recognition of team spirit, leadership and integrity, and whose enthusiasm for the game makes it a great experience for all players. Wallace finished his 85-game career with 27 goals and 23 assists for 50 points.

Chris Lorenc '10 received the Sellers Award. The award is presented to the player who, in the judgment of his teammates and coaches, has contributed greatly to the success of the program through his effort and performance both on and off the ice. The assistant captain led the team with 13 goals and posted 12 assists in 25 games. Lorenc finished his 95-game career with 43 goals and 36 assists for 79 points. He was a two-time member of the NESCAC winter all-academic team.

Goalie Calvin Bartel '13 and defenseman Joe Houk '13 each received Rookie of the Year honors. This award is given to the freshman who made the most impact to the success of the team in his first season. Bartel tallied 379 saves in 15 games and posted a 9-4-1 record. He finished the season with a 2.80 goals against average and a .909 save percentage. Houk scored four goals and led the team with 15 assists in 26 games.