Men's ice hockey rallies for 3-2 win at Tufts
---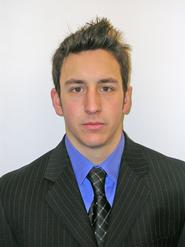 Harry Biggs '10 scored two goals in the third period to lift visiting Hamilton College to a 3-2 win against Tufts University in New England Small College Athletic Conference play at Valley Forum II on Jan. 31.
Hamilton (7-10-1 overall, 6-7-0 NESCAC) ended its four-game losing streak with exceptional special teams play. The Continentals, who never trailed, went 2-for-5 on the power play and added a shorthanded goal. Tufts (7-9-1, 4-8-1) was 1-for-6 with the extra skater and couldn't tie the score with a power play late in the third period. Hamilton has won three out of the last four in the series between the teams.
Biggs recorded the first two-goal game of his career. Hamilton is tied for sixth with Bowdoin College in the NESCAC standings with 12 points. The Continentals have six conference games remaining.
Biggs scored an unassisted, shorthanded goal at 3:34 of the third to put the Continentals up 2-1. The hosts responded just 35 seconds later on the same power play to even the score.
Biggs tallied the game-winner on a power play with 8:28 left. He got the puck behind the Tufts goal, charged to the front of the net and jammed the puck through the Tufts goalie for his fourth goal this season. Jerome Wallace '10 and Travis Blood '09 were credited with the assists. Despite pulling their goalie with 90 seconds remaining in regulation, the Jumbos could not score the equalizer.
Wallace opened the scoring in the first period when he knocked in a rebound during a power play with 5:22 left for his second goal this season. Tom Chiappetta '11 and BJ Lalonde '12 were credited with the assists. Tufts tied the score 1:48 into the second period.
Hamilton goalie Mark Donovan '11 stopped 14 shots in the third period to help ward off the Jumbos. He finished with 33 saves for his first win this season. Both teams took 35 shots.
Hamilton returns to NESCAC action on Friday, Feb. 6, when the Continentals host Bowdoin at Russell Sage Rink.