Men's ice hockey rallies for OT win at Trinity
---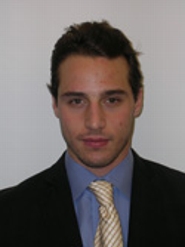 Marko Brelih '16 scored 21 seconds into the five-minute, sudden-victory overtime period and lifted Hamilton College to a 2-1 NESCAC win against Trinity College at Trinity's Williams Ice Rink on Nov. 30.

Brelih's overtime game-winner was a slap shot from the left faceoff circle. It was his first goal for Hamilton (1-3-1 overall, 1-2-0 NESCAC), and it gave the Continentals their first victory of 2012-13. The Bantams (3-1-1, 1-1-1) suffered their first setback of the season.

Anthony Ruberto '13 scored the game-tying goal in the third period and was credited with an assist on Brelih's game-winner. Pat Curtis '15 and Evan Haney '14 picked up one assist apiece. Joe Quattrocchi '14 made 22 saves, including 11 in the second period. Quattrocchi has a 1.02 goals against average and .957 save percentage in three NESCAC games.

Will Gray '14 scored a goal and Ben Coulthard '14 turned away 29 shots for Trinity. After a scoreless first period, Gray gave the Bantams the lead at 1:41 of the second when he punched in his own rebound.

The score remained 1-0 until the third period, when Hamilton took advantage of its fourth power-play opportunity. Michael DiCenso was sent to the penalty box for boarding at 7:28, and Ruberto tied the score on a shot that caromed off a Trinity player with 18 seconds left on the man-advantage. Ruberto leads the Continentals with three goals and five points.

The Bantams' Jeff Menard '13 got off a wrist shot in traffic with 33 seconds left in the third period, but was denied by Quattrocchi with a high save. Quattrocchi made two other glove saves on shots by Menard and added a one-on-one stop against Chris Menard '13 with just under seven minutes left in the first period. Coulthard was impressive in making a save on a shot from point-blank range by Peter Michailidis '16 early in the second period to keep the visitors off the scoreboard to that point.

Hamilton finished with a 31-23 shot advantage, and went 1-for-4 on the power play. Trinity came up empty on two power-play chances.

The Continentals travel to Wesleyan University for another NESCAC game on Saturday, Dec. 1.