Men's ice hockey rallies to defeat Babson in overtime
---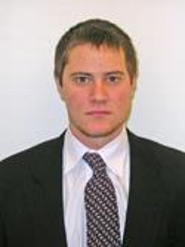 Bryan Kelly '12 scored with 2:03 left in overtime to complete a rally from a three-goal third period deficit, and lift Hamilton College to a 4-3 win against Babson College in a NESCAC/ECAC crossover game at Hamilton's Russell Sage Rink on Feb. 20.

Hamilton (14-8-2 overall, 11-7-1 NESCAC) finished the regular season with a three-game win streak. The Continentals are in sixth place in the conference standings and will play a NESCAC championship quarterfinal game at No. 3 seed Williams College on Saturday, Feb. 27, at 7 p.m.

Kelly finished with two goals. On the game-winner, Anthony Scarpino '12 carried the puck over the blue line and dropped it off for Kelly, who lifted a wrist shot into the back of the net from the top of the left faceoff circle. The goal was Kelly's ninth this season. Scarpino ended up with two assists on the afternoon.

After a scoreless first period, Babson (12-11-2, 9-9-1 ECAC East) grabbed a 2-0 lead with a pair of power-play goals 17 seconds apart in the second period. The Beavers scored the first one with 5:23 left in the period while they enjoyed a two-man advantage. Babson followed with another goal at 14:54. Hamilton pulled starting goalie Ian Stearns '10 in favor of Scott Hefferman '11 after the second goal. Stearns finished with 19 saves.

Babson took a 3-0 lead with an empty-net goal 2:12 into the third period. The Beavers took two penalties 15 seconds apart within the first 40 seconds of the period. Moments later, the Continentals pulled Hefferman for a sixth skater and a three-man advantage. The move backfired when the Beavers collected the puck in their defensive zone and fired a shot down the ice and into the empty net.

Hamilton started its comeback at 3:27 of the third when Chris Lorenc '10 scored his team-leading 13th goal during a power play. Kelly made it a one-goal game with 7:59 remaining while the teams skated 4-on-4. Joe Houk '13 tied the score with his fourth goal on a nifty move with 5:31 left. Houk carried the puck into the offensive zone, lifted it over a Babson defender's stick in the left circle and swept a backhander past the goalie.

The Beavers have lost four straight games. Babson had won the last six meetings with the Continentals. Hefferman turned away all 19 shots he faced, including one in overtime. The Beavers held a 41-36 advantage in shots. Babson was 2-for-8 on the power play while Hamilton was just 1-for-8.